Cast Your Ballot
Please review the candidates for the 2019 AMTE Election and vote by November 30, 2019.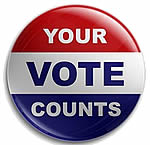 Call for Nominations
Deadline: June 1, 2019
Each year, the AMTE Nominations and Elections Committee seeks nominations for consideration as candidates for open Board positions. In 2019, we are electing a new President, Secretary, and Board Member-at-Large.
Application Form
Deadline: August 15, 2019
Candidates who have been nominated will be contacted and asked to apply online.
Selection Process
After reviewing all applications submitted by the August 15th deadline, the Committee will formulate an election slate of two candidates for each position, taking into consideration the following: candidates' professional qualifications, previous AMTE involvement, and diversity (e.g., years of experience, racial or ethnic background, affiliation (mathematics or education department or other organization), size of institution, geographic region, and so on) as aligned with the current composition of the Board membership.
All submitted nominations and applications will be forwarded to Toya Frank, Nominations and Elections Committee Chair.  If you have any questions about the nomination or application process, contact her at tfrank4@gmu.edu.