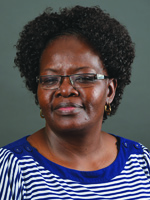 Susan Gay Scholarship 2015 Recipient

Mary Achieng Ochieng
Western Michigan University,
Kalamazoo, Michigan

Ms. Achieng Ochieng is a doctoral student in Mathematics Education at Western Michigan University. She is a research assistant for the MOST project, studying student thinking that is worth pursuing in whole class discussion. The decision to pursue a Ph.D. in mathematics education was shaped significantly by work experiences at the Center for Applied Research in Mathematical Sciences (CARMS), Strathmore University in Nairobi, Kenya.  Her research interest in student thinking is motivated by classroom experiences from teaching high school mathematics in Kenya, where students sometimes used methods that were unconventional and challenged her with their arguments. Ms. Achieng Ochieng has an interest in how pre-service teachers process number concepts, particularly what it means for them to make a shift from previously learned algorithms and procedures to a deep conceptual understanding. She is currently doing a preliminary study on perceptions of pre-service elementary school teachers taking a number concepts course. The findings of this study may be used to improve the course to better prepare elementary school teachers.