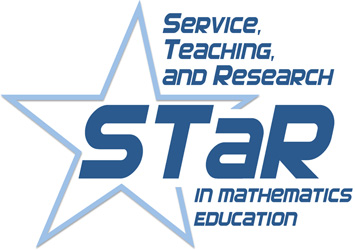 Supporting the Next Generation of Mathematics Teacher Educators
The Service, Teaching and Research (STaR) Program is an induction program for early career mathematics educators working at institutions of higher education. The program was initiated through a grant from the National Science Foundation. The Association of Mathematics Teacher Educators (AMTE) provides a professional home for the program as one of the mentoring programs for members.
Donate to the STaR Fellows Program
STaR Fellows Program
The STaR Fellows program includes a summer institute, academic year networking via electronic means, and a follow-up session in conjunction with the AMTE annual meeting. To date, 399 early career mathematics educators from more than 100 different doctoral programs and working at more than 200 institutions of higher education have completed the program.
The 2022 cohort of STaR Fellows included 18 faculty members from institutions across the U.S. The group convened for 5 days  in June for collaboration and mentoring on the topics of service, teaching, and research. 
If you have any questions, please contact Judith Quander at quanderr@uhd.edu.
Support the STaR Program
Donate today! In order to continue the STaR program, AMTE must secure funds, which are estimated at $1700 per STaR Fellow. The AMTE STaR Committee is currently soliciting support from other professional organizations, Foundations, and individuals. In fact, many STaR Fellows have already made a financial contribution to support future STaR cohorts. Even though these initial efforts have proven successful, as we have a number of committed pledges, much more monetary support is needed.
AMTE members (and others) can support the future of this successful early career induction program by making a financial contribution. To do so, click on the link below. Note that AMTE is a not-for-profit organization, so your gift may be tax deductible.