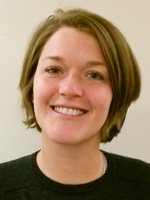 Susan Gay Scholarship 2016 Recipient

Elizabeth Fulton
Montana State University,
Bozeman, Montana
Elizabeth Fulton is currently enrolled in Montana State University's Ph.D. in Mathematics specializing in Mathematics Education Program. She works with Dr. Beth Burroughs on the NSF funded IMMERSION project which focuses on supporting K-8 teachers in engaging their students in mathematical modeling. This program prepares Ms. Fulton to research and teach mathematics education courses to pre-service teachers. At MSU, she has taught a wide range of mathematics and mathematics education classes to pre-service elementary and secondary teachers.  Ms. Fulton's interests involve pre-service teacher education; building relationships between pre-service teachers and elementary students and pre-service teachers' understanding of measurement, and well as gender and equity in mathematics education.  She has a B.A. in mathematics from St. Olaf College, a M.S. in mathematics from Montana State University, and is a former high school math teacher in Billings MT.