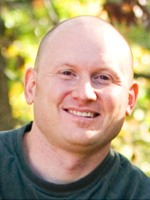 Susan Gay Scholarship 2016 Recipient

Jared Webb
University of North Carolina - Greensboro,
Greensboro, NC
Jared Webb is a third year doctoral student in Educational Studies with a concentration in Mathematics Education at The University of North Carolina at Greensboro. He serves as a research assistant on two research projects: the NSF-funded Learning Trajectory Based Instruction project under the direction of Dr. Paola Stzajn and Dr. Holt Wilson; and Project LEAD, a secondary mathematics professional development project. His research interests focus on the design and facilitation of rehearsal tasks in professional development settings and the ways in which these tasks support practicing teachers in navigating toward ambitious teaching. Jared holds a M.Ed. from UNCG and a B.S in civil engineering from North Carolina State University. Prior to his time at UNCG, Jared taught middle school mathematics, worked in geotechnical engineering, and spent nine years doing community development work in Brooklyn, NY.