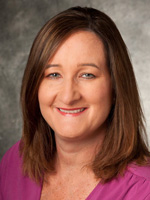 Susan Gay Scholarship 2016 Recipient

Dawn Woods
Southern Methodist University,
Dallas, Texas

Mrs. Woods is a doctoral student in Southern Methodist University's research-intensive Ph.D. in education program.  Before entering the Ph.D. program, she was a special education teacher, an elementary and middle school math and science teacher, and worked in educational research as an elementary mathematics specialist.  While a Ph.D. student she has had the opportunity to design practice-based professional learning activities to foster high-leverage practices as she works with pre-service and in-service mathematics teachers.  Her research interests focus on understanding the experience and development of novice mathematics teachers and how their instructional practices, orientations towards teaching, and support networks develop during their formative years in the profession.