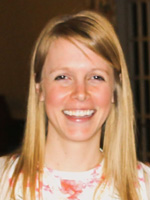 Susan Gay Scholarship 2017 Recipient

Madelyn Colonnese
University of Connecticut,
Storrs, Connecticut

Ms. Madelyn Colonnese is a PhD candidate studying elementary mathematics education at the University of Connecticut under the guidance of Dr. Tutita Casa. As a doctoral student, Ms. Colonnese has taught math methods and seminar courses to pre-service elementary school teachers. This has led to her interest in pre-service teacher education. She specifically seeks to understand how to further develop university and school partnerships. Her research interests also include, elementary mathematical writing and curriculum development. As she continues to study elementary mathematical writing, she plans to identify ways to inform preservice teachers on how to successfully integrate mathematical writing to leverage student learning.