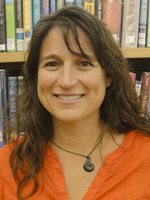 EMS Scholarship 2014 Recipient
Tiffany Dennison
Lincoln Community School,
Lincoln, Vermont 
Ms. Dennison has been the first grade teacher at the Lincoln Community School in Lincoln, Vermont for the past six years. The school is in the heart of the Green Mountains and is located right on the New Haven River. Before working in Lincoln, she taught for three years on Nantucket Island in Massachusetts in a private, Waldorf-inspired school.  Her first teaching experience happened at the Moretown Elementary School as a first/second grade teacher and as a fifth/sixth grade teacher. Majoring in Elementary Education at the University of Vermont, her minor was in Child Psychology and Communication Science and Disorder.
Woven through Ms. Dennison's story is a passion for integrating mathematics throughout the first grade curriculum. For example, when students record books they have read, they focus on numbers and graphing and when students are learning to count, she asks them to use their brains and move their bodies by jump-roping, marching and clapping.
Ms. Dennison has been involved with two committees that have been tied to Mathematics: the ANESU District Math Committee and the Common Core Committee. Pursuing more mathematics knowledge, she has taken professional courses: Mathematics and the Common Core through Castleton State College, Differentiated Learning, also through Castleton State College and Improving Mathematics for All, Improving Mathematics Instructions through the Center for Teaching /Learning of Mathematics in Framingham, Massachusetts.
Currently, Ms. Dennison is thrilled to be attending Vermont Mathematics Initiative through the University of Vermont. This is a master's program through the department of Mathematics. The institute is founded on the principle that deeper mathematical understanding by the teacher will lead to richer teaching of mathematics in the classroom. Receiving the AMTE Elementary Math Scholarship will help her achieve her goal of receiving a masters and thereby becoming a mathematics specialist.
Click here to return to EMS Scholarship 2014 Recipients page