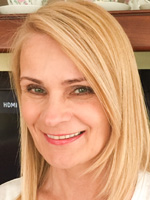 EMS Scholarship 2015 Recipient
Anna Feil
London Towne Elementary School,
Centreville, VA

My teaching career started after six years of studying at Tashkent State University in Uzbekistan. I returned to my home country of Poland and taught English as a foreign language. Ten years later, I moved to the US. I obtained my teaching license in ESOL, and was soon offered a Math/ESOL position at London Towne ES in Centreville, VA. I hadn't realized I would work with so many needy children who want to learn but often find it hard with no help at home. That's how my new passion started- providing these students with extra support in mathematics and keep them excited about discovering new things and investigating the yet unknown. I make sure they believe they all have great potential, can become successful learners and achieve great things.
I believe good learning comes from effective teaching which, in turn, has to do with deep content knowledge, appropriate instruction planning, and most of all devotion, excitement, and an open mind. I love my job and enjoy every moment spent at work. When you are passionate about something, you have that natural feeling that you want to learn more and more about it. The more you learn, the more hungry for knowledge you become and feel the need to study the area of your interest even deeper and more thoroughly. That's why I decided to apply to the Education Leadership program with the Math Specialist Leader concentration at George Mason University in Fairfax, VA. I have completed six program classes already. Any class I take I study new content, learn how children learn math, and develop engaging lesson plans, rich tasks and activities. The program helps me as an ESOL teacher find ways of supporting students with limited English proficiency in this subject and how to make mathematics concepts more accessible for all learners.
Working on an assignment for the Research in Mathematics Teaching class last year, I went through multiple research articles and books on collaborative groups and cooperative learning. In the process, I came up with an innovative idea for enhancing the math workshop in our school. In order to make students' work more effective and achieve their higher accountability, I proposed assigning roles to students working in small station groups. We tried this idea in one grade level last year. It took some time to prepare classroom teachers for implementing this initiative and before long we saw positive results and exciting changes in our students. They were more focused and active.  They showed more responsibility and respect towards each other: they listened to their group members, offered helped without giving away right answers, or asked for help when confused or lost. Students discussed mathematics. The amount and quality of work completed was much higher.
This is just one example of the impact the Math Specialist Program has had on my improvement as a teacher, development as a coach, and transformation as a coach. I am grateful to the AMTE for awarding me the Elementary Math Scholarship. It will certainly help me achieve my goal of becoming a Math Specialist and thereby being an even more valuable resource to my students and fellow teachers.
Click here to return to EMS Scholarship 2015 Recipients page