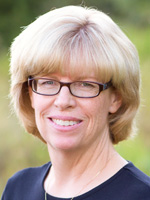 EMS Scholarship 2015 Recipient
Kristin Peters
Riverview Elementary,
Evergreen Public Schools, Vancouver, WA
Kristin Peters lives and works in Vancouver WA.  She has taught at Riverview Elementary in Evergreen Public Schools for 12 years, the first nine as a 1st grade teacher and the past three in 4th grade.
While Kristin was still teaching 1st grade, her district began moving away from using scripted mathematics materials and toward a resource-based system in which teachers were expected to draw on several high quality resources to create effective lessons.  Knowing that success under this model would require in-depth understanding of how children developed mathematical ideas, Kristin enrolled in First Steps in Number through her district.  She was at once both fascinated by the course content and shocked at how little she understood about the development of mathematical ideas in children.
Motivated to continue her learning, she enrolled in a 9-day course (Patterns I) offered by Mathematics Education Collaborative (MEC), and taught by Patty Lofgren (co-director with Ruth Parker of MEC).  Through this experience she discovered exactly how an effective mathematics classroom should function and became committed to providing the same powerful learning experiences for her students.
In the fall of 2012, Kristin moved from first to 4th grade.  That spring she was selected to be a part of a state-wide cohort of teacher-leaders who worked extensively with MEC to develop the skills and knowledge to successfully implement the Common Core State Standards in Mathematics and provide leadership for peers.  During a two and a-half year period, this group focused on the essential content of middle school mathematics (Ratio and Proportional Reasoning, Rational Numbers, and Equations & Expressions) while working to build classroom practices consistent with the Eight Mathematical Practices. 
To broaden her knowledge of content and practices for grades K-5, in August of 2014 Kristin enrolled in a series of classes at Portland State University titled Deepening Mathematical Understanding for Elementary Teachers, directed by Nicole Rigelman.  With the financial support of the AMTE grant, Kristin will complete her coursework by June 2016 and earn an Elementary Mathematics Instructional Leadership Specialization.
Besides classroom teaching, Kristin leads professional development opportunities for teachers and math workshops for parents in her district.
"I'm driven to develop the skills and knowledge to support powerful mathematics teaching and learning in the elementary world where literacy often seems to be the top priority.  My goal is to support learning experiences for students, where mathematics is viewed as the creative and fascinating subject it is and high achievement is within reach of all."
Click here to return to EMS Scholarship 2015 Recipients page