2019 Nadine Bezuk Excellence in Leadership and Service Award Recipient
Samuel Otten
University of Missouri
Associate Professor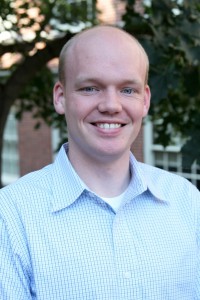 Biography
Dr. Samuel Otten is an Associate Professor of Mathematics Education and the Lois Knowles Faculty Fellow in the Department of Learning, Teaching, and Curriculum at the University of Missouri in Columbia.
Dr. Otten was raised in the Upper Peninsula of Michigan and has received degrees from Grand Valley State University and Michigan State University. His major advisor was Dr. Beth Herbel-Eisenmann. Dr. Otten's research centers on students' participation in secondary mathematics classrooms with a particular focus on reasoning-and-proving and technology. He is the coordinator for the Master's and Education Specialists programs in mathematics education at the University of Missouri and has recently become interested in studying mechanisms for long-term instructional change.
Dr. Otten has been an active member of AMTE since 2011 and has served the field as an editorial board member of the journal PRIMUS and as a steering committee member of PME-NA. He is currently leading the local organizing committee for the PME-NA conference in 2019. Sam also hosts the Math Ed Podcast, which was launched in 2012 and has since grown to a worldwide audience averaging 1,200 downloads per episode.