The Nineteenth Annual Conference of the 
Association of Mathematics Teacher Educators (AMTE)
Rosen Plaza Hotel, Orlando, Florida 
Thursday, February 12 through Saturday, February 14, 2015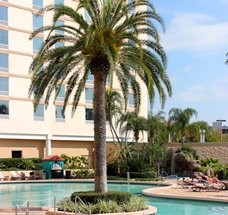 The Nineteenth Annual Conference of the Association of Mathematics Teacher Educators (AMTE) will be held at the Rosen Plaza Hotel in Orlando, FL from Thursday, February 12 through Saturday, February 14, 2015.
Rosen Plaza Hotel
9700 International Drive
Orlando, FL 32819
Front Desk Phone: 407-996-9700
Reservations: (800) 627-8258 (mention "AMTE Conference")
Note About the Hotel Location
There are two Rosen Hotels on International Drive adjacent to the Orange County Convention Center. Our conference is at the ROSEN PLAZA HOTEL, which is located across from Pointe Orlando.
We have a limited block of reduced-price rooms available, so we encourage you to reserve your room as soon as possible. Reduced-price hotel rooms in the AMTE room block at the Rosen Plaza Hotel are $164/night for single or double occupancy. Each additional person in a room is $20/night.  
Use the link below to make your reservation for the AMTE Conference.  Alternately, you can call Rosen Plaza Reservations toll-free using 800-627-8258 (mention "AMTE Conference"). If you have difficulty with your reservation, please contact Susan Gay at sgay@ku.edu.