Thursday, Jan 28 through Saturday, Jan 30, 2016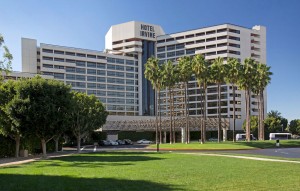 Hotel Irvine Jamboree Center, Irvine, CA

Hotel Irvine Jamboree Center, Irvine, California
17900 Jamboree Road,
Irvine, CA 92614
Tel: (949) 230-4452
Fax: (949) 852-1574
Airport Transportation to Hotel Irvine
There is a complimentary shuttle between the Orange County/John Wayne Airport (airport code SNA) and the Hotel Irvine.  The shuttle hours are 5:00 a.m. to 10:45 p.m.  Below is a description that may be helpful to you if you travel to Irvine via air transportation.
From inside the airport near the baggage claim area, look for signs that say Ground Transportation Center and that direct you to go outside the building.  At a light near the John Wayne statue, you will cross one multi-lane street.  Then cross the street that is used by taxis.  You will see a sign for "Courtesy Shuttle: Hotels and Attractions" and you can wait here for the hotel's shuttle.  So, in essence you will wait at the third street from the building.  Don't go as far as Main Street Parking Shuttle or Door-to-Door Transportation, which is the fourth street. 
There is no need to call for the shuttle. It will arrive at approximately 15 minutes and 45 minutes after the hour.  The last shuttle departs the airport at 10:45 p.m.  Some of the hotel shuttles are white vans with grey lettering for Hotel Irvine with a burnt orange capital I in Irvine.  One large shuttle is blue with the Hotel Irvine name.  The trip to the hotel is 5 to 10 minutes but may be longer with lots of traffic.  If you need more information about the Airport Shuttle Service, please inquire at the Information Desk at the airport.   
If you are interested in a taxi from the Orange County/John Wayne Airport to Hotel Irvine, the one-way cost is approximately $14.00.
Hotel Irvine Parking Information
Discounted self-parking is available for conference attendees for $8.00 per car per day or $12.00 per car per day for overnight parking. In order to obtain these special discounted rates, just mention that you are with the AMTE conference either as you exit the parking lot (for day guests) or when checking into the hotel (for overnight guests) and staff will charge the appropriate parking rate. Valet parking is also available at the hotel's prevailing rates.