AMTE-TX
AMTE-TX (The Association of Mathematics Teacher Educators in Texas) will host a special strand of sessions focused on mathematics teacher education along with its annual business meeting at the Conference for the Advancement of Mathematics Teaching, June 29-July 1, 2016 in San Antonio, TX. Session descriptions and times can be found at http://www.amte-tx.org/.
The 2016 AMTE-TX Fall Conference will be held September 23 & 24 at Abilene Christian University in Abilene, Texas. The theme is "Preparing Teachers for Tomorrow's Classrooms." The conference will include a virtual panel discussion with Beth Burroughs, Doug Clements, Jim Lewis, and Denise Spangler. For more information please contact Dusty Jones, President of AMTE-TX (2014-16), at leadership@amte-tx.org.
HAMTE
Members of HAMTE (Hoosier Association of Mathematics Teacher Educators), in partnership with the Metropolitan School District of Washington Township, hosted the first HAMTE Mathematics Teacher Leadership Conference on March 18, 2016. With Maggie McGatha as the keynote speaker, the Conference attracted 110 participants, with another 10 on the waiting list after registration closed due to limits on seating capacity. In addition to the keynote presentation, six breakout presentations focused on specific issues related to elementary and middle school mathematics teacher leadership. Information about the Conference, including the schedule with the list of presenters and a zip file with slides and handouts, appears at this website: https://hamte.org/resources/mtlc2016/  .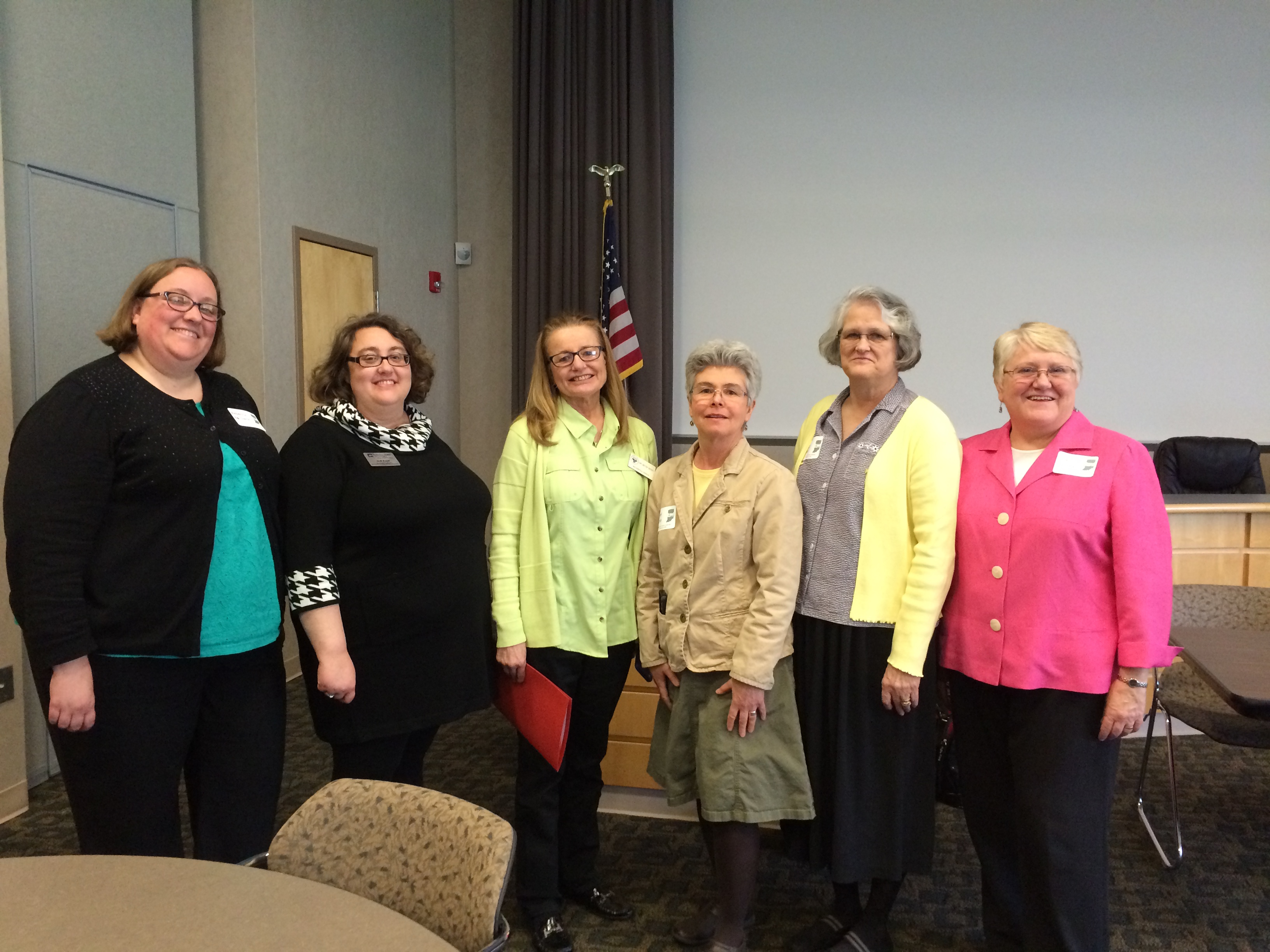 (From left to right—HAMTE members Rebecca Borowski, Jodi Frost, Betsy Berry, Sheryl Stump, Doris Mohr, and MSD Washington Township's Jane Cooney)
HAMTE recently established an Advocacy Task Force. The Task Force leaders first sent a survey to all HAMTE members to identify who was interested in pursuing advocacy work and which issues were most critical. Based on the survey responses, three advocacy teams were identified—PreK-12 Curriculum, Mathematics Teacher Recruitment, and Teacher Licensure Testing. Each team was charged with setting goals, gathering information, developing a tentative action plan, recruiting additional team members, assigning action items to the team members, and reporting on progress to the HAMTE membership. As they engage in this work, HAMTE members are eager to share their progress and what they learn from their experiences. They also have questions they would like to ask their AMTE colleagues doing parallel work in other states. They hope to engage in this discussion at the 2017 Annual AMTE Conference.
If you have any questions about the work of HAMTE, please contact President Sheryl Stump at sstump@bsu.edu.
MI-AMTE
MI-AMTE (Michigan Chapter of the Association of Mathematics Teacher Educators) held its first Annual Conference on March 19, 2016 at Western Michigan University. Keynote speakers were Emma Trevino, Project Manager of the implementation of the Common Core State Standards for Mathematics for San Francisco Unified School District, and Edward Silver, William A. Brownell Collegiate Professor of Education and Professor of mathematics at the University of Michigan. The conference featured 20 different sessions and had 88 attendees. The 2017 Conference is being planned at Michigan State University on March 18, 2017. The affiliate also elected new board members, including President-elect Matt Wyneken (University of Michigan, Flint), Treasurer Judith Jacobs (JEJ Math), Secretary Maggie Rathouz (University of Michigan, Dearborn), Members-at-Large Laura Van Zoest (Western Michigan University) and Kristen Bieda (Michigan State University), and Graduate Student Representative Annick Rougee (University of Michigan).