AFFILIATE NEWS
Welcome, Women and Mathematics Education, AMTE's newest affiliate!
At the February 10 annual business meeting in Houston, the national organization Women and Mathematics Education (WME) received its charter as AMTE's newest affiliate. WME President Lorraine Howard received the affiliate charter and invited all AMTE members to consider joining WME (photo with Randy Philipp and Tim Hendrix presenting to Lorraine below).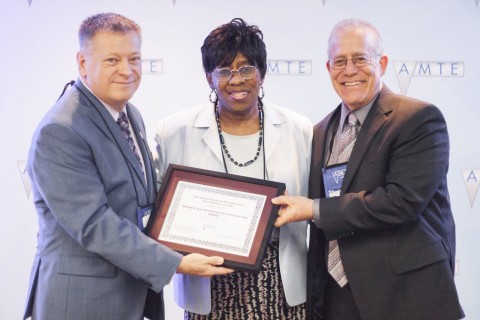 WME is celebrating its fortieth anniversary this year. In recognition of Judith Jacobs' vision and leadership in founding the WME organization, Lorraine presented a WME Lifetime Achievement Award to Judith at the conclusion of this year's Judith Jacobs Lecture. Congratulations, Judith!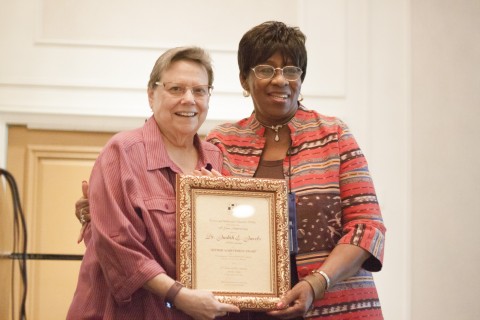 Submitting your Affiliate News Items to the Affiliates Corner
Every issue of AMTE Connections includes an affiliates-focused section called Affiliates Corner. Each affiliate and affiliate region may submit news items describing recent and upcoming activities and initiatives. Affiliate Connections Committee (ACC) regional representatives will communicate the calls for submissions to all affiliate leaders.
Affiliates are welcome to submit news items in advance of the official call. Send your news to amteaffiliate@gmail.com using the heading NEWS ITEM. The submission will be included in the next edition of AMTE Connections' Affiliates Corner.
Managing your Affiliate Page in the AMTE Affiliates Directory
Is your affiliate's page in the AMTE Affiliates Directory up to date? One representative from each affiliate can be granted access to edit that affiliate's information in the online directory. Each affiliate page includes an overview section that can link to the affiliate website, a list of affiliate leaders, and a section for additional information.
To find out more about managing your affiliate's webpage, go to https://amte.net/affiliates/manage  The link to the AMTE Web Team provides an easy way to register or change your affiliate representative. 
Renewing your AMTE Affiliation for 2018-19
Renewing your affiliate's AMTE affiliation is more than sending a check. Please take time to review the easy steps outlined below. Affiliate dues for the February 2018 – January 2019 AMTE year are $80.00. Deadline for payment is APRIL 1, 2018. If your affiliate is unable to meet this deadline, please contact your ACC regional representative as soon as possible to propose an alternative payment schedule.
Go to https://amte.net/civicrm/contribute/transact?reset=1&id=12 [or from the AMTE home page (amte.net), find the Affiliate Renewal Form under the Membership tab at the top of the page].
After reading the information* in the blue box, complete the Affiliate Profile. The Affiliate Profile provides important information to the ACC, resulting in better communication between the ACC's regional representatives and AMTE affiliates. Identifying strengths and challenges can lead to collaborative sharing and problem solving with the ACC and other affiliates.
*Although the information section currently displays the 2017-2018 AMTE year, the form may be used to submit 2018-2019 affiliate information and payment.
In the section labeled Payment Options, select the appropriate option for your affiliate. These options are PayPal/credit card or check.


If you select PayPal/credit card (the default option), the Credit Card Information section remains visible for you to enter all card and billing information.
If you select the payment by check option, the Credit Card Information section will disappear and you will be responsible for sending a check to the AMTE treasurer.

Be sure to click on the green CONFIRM CONTRIBUTION button at the bottom of the page. 
Your AMTE Affiliates Connections Committee
The 2018 ACC members and the regions/affiliates they serve appear below.
---

Tom Evitts

---

ACC Chair

---

Facilitates all ACC Reps

Michelle Stephan

West Region

OR, CA, UT, TX

Jill Newton

Midwest Region

MI, IA, IL, IN, MO, WI

Dana Franz

Southeast 1 Region

MD, NC, SC, GA, VA

Mary Pat Sjostrom

Southeast 2 Region

FL, TN, MS, AL, KY

Hartono Tjoe

Northeast Region

MA, CT, NJ, PA

Lorraine Howard

Women and Mathematics Education

 
The Affiliates Connections Committee and Chair can be contacted through the email address amteaffiliate@gmail.com or through contact information provided at https://amte.net/committee/affiliate-connections-committee.