Affiliate News
AMTE-Alabama
AMTE-Alabama's new president, Nicolette Nalu, took office on November 2, 2018 at the AMTE-A business meeting held during the state math conference (ACTM). Nicolette reports that another meeting (possibly around May 13-18, 2019) is being planned. The meeting will be held in the Birmingham, AL area and will have a Zoom option available as well. 
One of Nicolette's goals as the new president is to double (if not more) the active members of AMTE-A between now and the May 2019 meeting. AMTE-Alabama currently has just under 20 active members.
The May meeting will include the following agenda items: welcoming new members, New Math COS, Praxis II scores compared to other states, an Elementary Math Specialists committee that might be formed and funded through the new State Superintendent, Dr. Eric Mackey, a focus on Catalyzing Change, EdTPA, MAA IP Guide, AMTE Standards and Mission, and the benefits of being an AMTE affiliate.
AMTE-North Carolina
The North Carolina affiliate of AMTE (AMTE-NC) had a "Back-to-School" event in August when 53 members gathered in Raleigh, NC to kick off the academic year.  President Randy Philipp joined us via Zoom to provide greetings and advice as we move forward as an affiliate.  Members of AMTE-NC facilitated sessions focused on statewide initiatives to support K-12 teachers in NC and methods courses in teacher preparation programs.  Thank you to all of the facilitators: Holt Wilson, Allison McCulloch, Michelle Stephan, Katie Schwartz, Wendy Rich, Cyndi Edgington, Ginger Rhodes, Katie Baker, and Valerie Faulkner.  Mathematics leaders from the NC Department of Public Instruction joined us for the conversations, too.  The day was a success for learning, networking, and building our community of mathematics teacher educators in NC. 
AMTE-NC also proudly organized the 1st Annual AMTE-NC Preservice Teacher Poster Session, taking place at the NCCTM conference.  The session featured 54 preservice teachers from across the state who presented 28 posters.  Their posters included a cognitively demanding mathematical task aligned to specific learning goals and hypothetical or real student work.  The energy in the room was high and exciting, and the preservice teachers really enjoyed networking with each other.  We are very proud of all of the participating preservice teachers!
We had our Fall Business Meeting on November 1st, also during the NCCTM conference.  The meeting featured a panel of district-based mathematics teacher educators.  Discussion focused on challenges (and celebrations!) in K-12 schools related to mathematics teaching and learning, and how we can best leverage university-district collaborations to support the work of K-12 teachers.  Thank you to our panel members:  Leanne Daughtry, Chad Broome, Audrea Saunders, and Kelly DeLong for sharing their expertise.
After the panel, we had our business meeting.  We recognized board members whose terms ended in May 2018.  Thank you to Michelle Stephan, Lisa Poling, Peter Eley, and Stefanie Buckner for their service.  Updates as well as treasurer and membership reports were shared.  There are currently 74 members in AMTE-NC, 20 of whom are graduate students.  As an organization, we are continuing to work on extending our reach across the state.  We also discussed member benefits and next steps as an affiliate.  We are very grateful to North Carolina Council of Teachers of Mathematics for providing us the space for both our Fall Business Meeting and the Poster Session.
AMTE-North Carolina is looking forward to 2019 and continuing to build and extend our community of mathematics teacher educators in North Carolina!   
HAMTE (Indiana)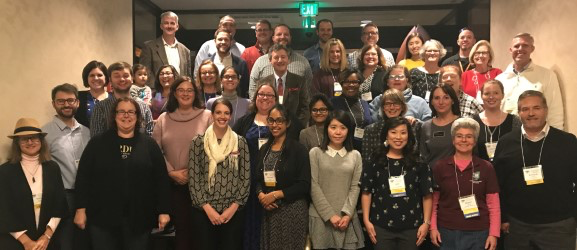 This photo of the Hoosier Association of Mathematics Teacher Educators (HAMTE) was taken in November 2018 at the annual business meeting. 
MAMTE (Mississippi)
The Mississippi Association of Mathematics Teacher Educators (MAMTE) held its Annual Business Meeting on the campus of Mississippi University for Women during the MCTM conference on October 13, 2018. During the meeting, members voted to approve an updated version of the organization's constitution and bylaws. A revised graduate student scholarship application was also voted on and approved. Finally, MAMTE celebrated the success of the organization in presenting a data-driven case for lowering the state cut score for the Praxis II Mathematics exam, which was approved by the Department of Education in April 2018. MAMTE will hold its Annual Symposium in May 2019 on the campus of William Carey University.
MI-AMTE (Michigan)
The Michagan Association of Mathematics Teacher Educators is gearing up for its annual Conversations Among Colleagues to be held at Hope College in Holland, Michigan, on March 16, 2019, under the able leadership of Eric Mann (Hope College) and his planning committee of Carla Tayeh (Eastern Michigan University), Kristen Bieda (Michigan State University), and Elizabeth (Liz) Cunningham (University of Michigan-Flint). 
Plenary speakers include Mike Steele (University of Wisconsin-Milwaukee, AMTE President-elect) and Ziv Feldman (Boston University).
Members from other states are welcome to join us for all the wonderful hospitality that Hope College and Holland has to offer!  For more information please see: MI-AMTE 2019 conference .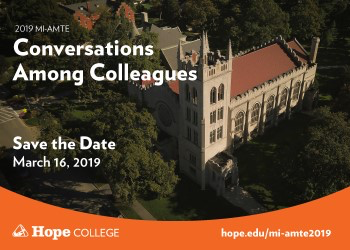 PAMTE (Pennsylvania)
Pennsylvania Association of Mathematics Teacher Educators coordinated with PCTM to host the second annual Pre-Service Teacher Day on Saturday, October 20 at two different locations statewide (Eastern PA: Saint Joseph's University and Western PA: California University of Pennsylvania). In total around 170 preservice teachers attended.  The day began with a keynote speaker followed by breakout sessions. The day ended with panel sessions focused on preparing for student teaching and transitioning from preservice teacher to the professional environment. Participants received door prizes donated by the mathematics education community.
AMTE-TX (Texas)
The Association of Mathematics Teacher Educators in Texas AMTE-TX continues to celebrate our 10th anniversary as an AMTE affiliate with special events all year long.   
AMTE-TX held its Sixth Annual Fall Conference on September 21 and 22, 2018, hosted at Stephen F. Austin State University in Nacogdoches, TX. The theme of the conference was Implementing the AMTE Standards for Preparing Teachers of Mathematics.  The conference opened with a welcome by AMTE President, Randy Philipp, followed by a virtual panel of scholars in the field, including Christine Browning, Travis Olson, Nicole Rigelman, Michael Steele, and Marilyn Strutchens. This morning session set the stage for rich discussions and afternoon breakout sessions by AMTE-TX members.
We initiated graduate student and early career/new-to-state travel awards and presented the inaugural AMTE-TX Outstanding Service Award to Trena Wilkerson, who gave a plenary session pushing us to think about where we want mathematics teacher education in Texas to be in 10 years.
AMTE-TX completed a two-year process of restructuring our governance to mirror the governance structure of AMTE.  Our constitution now reflects those changes.
Submitting your Affiliate News Items to the Affiliates Corner
Every issue of AMTE Connections includes an affiliates-focused section called Affiliates Corner. Each affiliate and affiliate region may submit news items describing recent and upcoming activities and initiatives. Affiliates Corner Committee's regional representative will communicate the calls for submissions to all affiliates' leaders.
Affiliates are welcome to submit news items in advance of the official call. Send your news to amteaffiliate@gmail.com amteaffiliate@gmail.com using the heading NEWS ITEM. The submission will be included in the next edition of AMTE Connections Affiliates' Corner.  Photos should be submitted in a jpeg or png format.
Managing your Affiliate Page in the AMTE Affiliates Directory
Is your affiliate's page in the AMTE Affiliates Directory up to date? One representative from each affiliate can be granted access to edit that affiliate's information in the online directory. Each affiliate page includes an overview section that can link to the affiliate website, a list of affiliate leaders, and a section for additional information.
To find out more about managing your affiliate's webpage, go to https://amte.net/affiliates/manage.  The link to the AMTE Web Team provides an easy way to register or change your affiliate representative. 
Your AMTE Affiliates Connections Committee
The 2018 ACC members and the regions/affiliates they serve appear below.
---

Tom Evitts

---

ACC Chair

---

Facilitates all ACC Reps

Michelle Stephan

West Region

OR, CA, UT, TX, WME

Jill Newton

Midwest Region

MI, IA, IL, IN, MO, WI

Dana Franz

Southeast 1 Region

MD, NC, SC, GA, VA

Mary Pat Sjostrom

Southeast 2 Region

FL, TN, MS, AL, KY

Hartono Tjoe

Northeast Region

MA, CT, NJ, PA
The Affiliates Connections Committee and Chair can be contacted through the email address: amteaffiliate@gmail.com or through contact information provided at https://amte.net/committee/affiliate-connections-committee.