An official AMTE publication for the mathematics teacher education community.
Spring 2023
The Spring 2023 issue includes a first message from our new AMTE President, Enrique Galindo. Read about the current opportunities to serve in AMTE, including as President-Elect, Board Member-at-Large, and Editor of Connections. Be sure to check out the highlights and photos from our recent Annual Conference as well as the call for Awards. Also included are updates from: the journals MTE and CITE-Math, the Board of Directors, the STaR program, podcasts, and affiliates. Thank you to Sheryl Stump, Ball State University, and Christine Trinter, University of Notre Dame, who just concluded their service on the Connections Editorial Panel. The panel welcomes two new members: Jodi Frost, Indiana State University, and Eugenia Vomvoridi, University of South Florida Tampa.    
Susan Swars Auslander, Connections Editor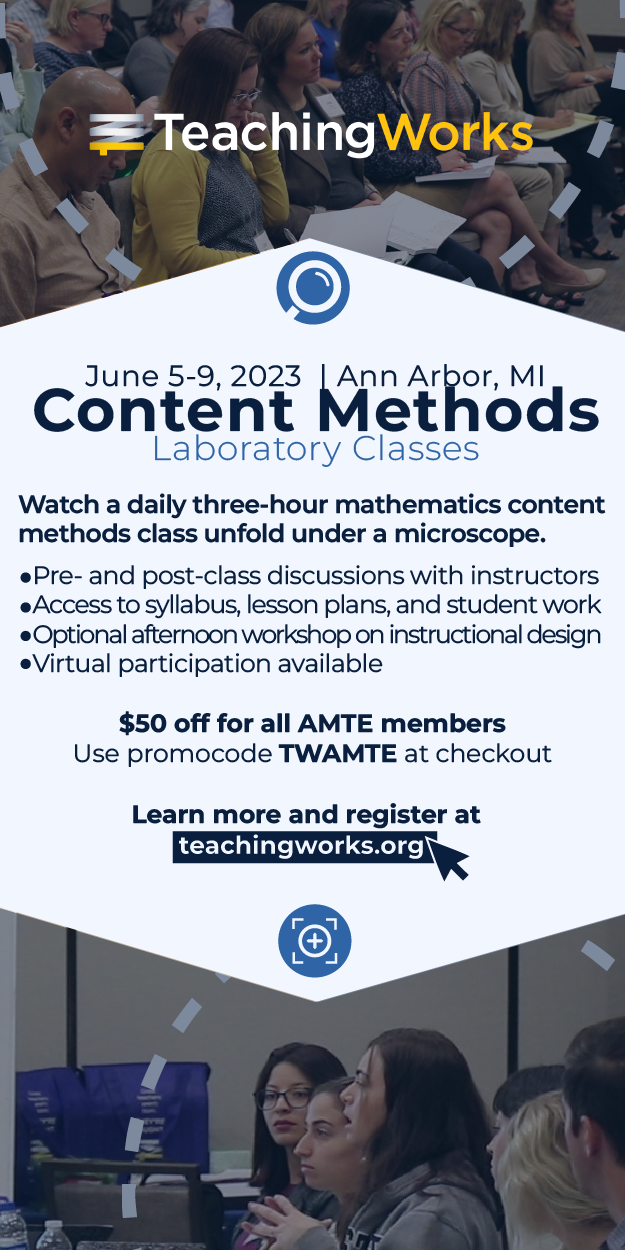 Call for Proposals for AMTE 2024 Annual Conference
The 28th Annual Conference of AMTE will be held February 8-10, 2024 in Orlando, FL. The call for proposals will be open April 1, 2023 with a deadline of May 15, 2023.
 AMTE's New Community Circles
Wellness and Productivity
International Mathematics Educators
Early Childhood Mathematics Teacher Educators
Check out the full list of Community Circles on the AMTE website, and remember all AMTE members can attend any of the Circles. Thank you to the AMTE members who are serving as lead contacts of the Circles -- your service is appreciated! If you are interested in starting a Community Circle, please contact Temple Walkowiak at tawalkow@ncsu.edu.