Starting in Spring 2014, the AMTE Web Team (Joe Champion, Tony Nguyen, and Tim Hendrix) has been working to update the web design and content management system for our website.
Working in collaboration with the AMTE Board of Directors and the many site contributors, the team expects most changes to be finalized during the first part of the 2014-2015 academic year.
We appreciate your patience and support as we work to improve the website.
Summary of Planned Changes to AMTE.net
Look & Feel
We're moving the sidebar to an expandable drawer, reducing the number of visual elements on the page, restructuring pages into clear sections, and using more readable fonts.
Content Management System
We're upgrading our website engine (Drupal) and member management system (CiviCRM) to the latest versions for improved performance, features, and security.
Content
We're transitioning to a more dynamic publishing process that will make it easier to build and maintain content, register for conferences, and find useful resources.
New Features
We're adding new ways for teacher educators to find and collaborate with colleagues around the country. Preliminary ideas include Special Interest Groups, a searchable Member Directory, and better resources for early career mathematics educators.
Questions or Comments?
The AMTE website is large and complicated, so we often rely on users to help us improve the site. If you have any suggestions, feedback, questions, or concerns, please don't hesitate to Send a Note to the Web Team. You're also welcome to send an email directly to Joe Champion, AMTE Website Director, at joechampion@boisestate.edu .
Where We've Been
AMTE.net was first registered in 1999. Since then, the site has undergone major redesign efforts approximately once every 4-5 years. For a trip down memory lane, here are a few archived photos of previous site templates.
Original HTML-Based Theme (March 8, 2001)

Static Theme with Navigation (Nov 4, 2005)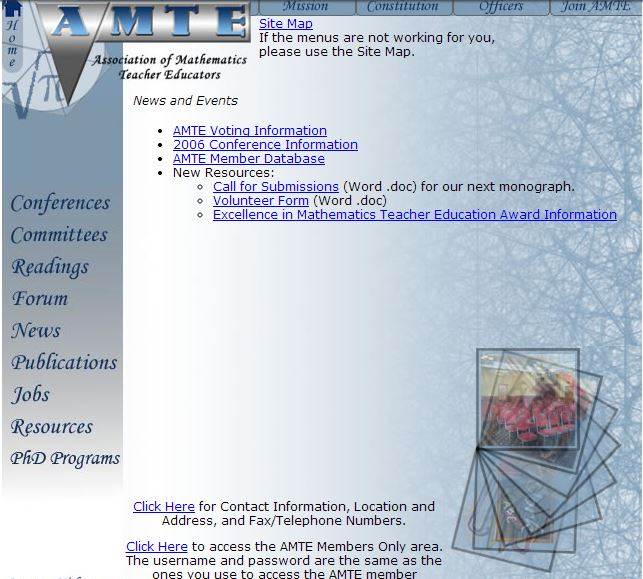 Drupal Theme with Login and Managed Content (May 8, 2013)