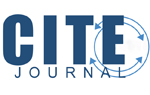 Call for Manuscripts in Technology and Mathematics Education
Preparation of tomorrow's teachers to use technology is one of the most important issues facing today's teacher education programs. The Association of Mathematics Teacher Educators (AMTE) is pleased to sponsor a refereed academic journal on this timely subject, Contemporary Issues in Technology and Teacher Education (CITE Journal). This new journal is available in an electronic version on the web at:
Technology is pervading schools. Mathematics educators play an important role helping teachers integrate the teaching of mathematics with technology. Prospective and inservice teachers must be prepared to advance the profession by infusing technology into their teaching, and mathematics teachers educators must model that process.
The CITE Journal provides a forum for a dialog about best practice in preparation of mathematics teachers who use technology. This call for papers encourages NCTM members, researchers, and mathematics teacher educators to submit articles addressing this topic.
Articles may address any area of technology and teacher education. Articles dealing with both preservice and inservice issues are welcomed. A wide range of formats and approaches to scholarship are accepted, including qualitative research, quantitative studies, conceptual and theoretical pieces, case studies, and professional practice papers.
Articles will be published in electronic format, as well as in corresponding versions (PDF) suitable for print. Technology is a rapidly evolving medium. An electronic format allows articles to be published in a timely fashion and permits inclusion of color graphics, photographs, and other media. Manuscripts may be submitted online through the journal web site. Inquiries about potential manuscript topics are welcomed.
CITE Journal Sponsors 

The following professional societies are joint sponsors of the CITE journal. Each teacher educator association has responsibility for publication in its content area.
Mathematics Education – Association of Mathematics Teacher Educators
Science Education – Association for the Education of Teachers in Science
English Education – NCTE Conference on English Education
Social Studies Education – NCSS College and University Faculty Assembly (CUFA)
General Technology – Society for Information Technology & Teacher Education (SITE)
The Cite Journal is supported by a US Department of Education Preparing Tomorrow's Teachers to Use Technology Catalyst grant and by the sponsoring teacher educator associations.
If you have queries about potential articles or are interested in reviewing articles for the journal, feel free to contact the AMTE CITE-Mathematics' Editors.