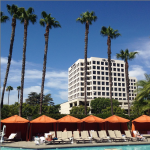 The Twentieth Annual Conference of the Association of Mathematics Teacher Educators (AMTE) will be held at the Hotel Irvine Jamboree Center in Irvine, California from Thursday, January 28 through Saturday, January 30, 2016. 
Hotel Irvine
17900 Jamboree Road
Irvine, CA  92614
Front Desk Phone: 949-230-4452
Hotel Reservations
We have a limited block of reduced-price rooms available so we encourage you to reserve your room as soon as possible.
Reduced-price hotel rooms in the AMTE room block at Hotel Irvine are
$169/night for single or double occupancy
$189/night for 3 people in a room
$209/night for 4 people in a room
Notes
Make your reservation by Monday, November 30, 2015 to get our special conference room rates.  Please be aware that the conference block of hotel rooms may be sold out before this date.  It is best to reserve early.  Once the room block is full, the hotel will accept reservations at the hotel's prevailing rate and only on a space-available basis. 
If further assistance is needed, or to make a reservation via telephone, please call (888) 230-4452.  Ask for Reservations and mention "AMTE Conference."  It is best to call Monday-Friday 7:00 a.m. to 7:00 p.m. Pacific time or Saturday, Sunday, and Holidays 8:00 a.m. to 5:00 p.m. Pacific time to talk to a Reservation Agent on-site at Hotel Irvine.
Hotel Airport Transportation
The Orange County/John Wayne Airport (airport code SNA ) is the closest airport to the hotel.  Hotel Irvine provides complimentary airport transportation between the hotel and the Orange County/John Wayne Airport.