On January 28-30, 2016, AMTE hosted our Twentieth Annual Conference in Irvine, CA. At this conference, attended by about 630 people, there were many outstanding speakers and numerous opportunities for those attending to meet and share ideas with each other. We had a record number of presenters, 483, for this milestone conference, two decades in the making.
Beginning Thursday morning and ending Saturday morning, 186 concurrent sessions were held.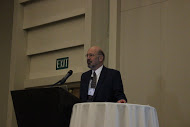 At 9:00 a.m. on Thursday, we began the conference by welcoming Ed Dickey, University of South Carolina, as the speaker at the Opening Session (photo on right). He sparked discussion with ideas that have been used to recruit students into the mathematics teaching profession. Dr. Dickey's presentation slides, other materials, and answers to questions posed during the presentation are available on the AMTE website .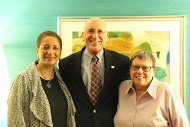 This year's Judith E. Jacobs Lecture was given by Francis (Skip) Fennell, emeritus professor at McDaniel College (photo with Christine Thomas and Judith Jacobs on right). He presented a history of mathematics teacher education, including AMTE's, and addressed mathematics teacher educators' future responsibilities and opportunities. Dr. Fennell's presentation slides are also available on the AMTE website .
During the conference, materials and information of interest to members were available at the conference exhibitor tables. The conference exhibitors included groups from Budapest Semesters in Mathematics Education, Casio, ETA hand2mind, Information Age Publishing (IAP), The Math Learning Center, National Council of Supervisors of Mathematics (NCSM), National Council of Teachers of Mathematics (NCTM), ORIGO Education, Pearson, and TODOS: Mathematics For All. We thank each of these groups for contributing to the success of this conference.
During a Thursday evening reception, more than 100 graduate students and early career faculty attending the conference had an opportunity to meet each other and AMTE leaders. Thank you to ETA hand2mind and NCTM for supporting the reception, and to ETA hand2mind, IAP, Casio and NCTM for donating door prizes.
On Friday morning, the Advocacy Breakfast was led by Ken Krehbiel from NCTM and Jim Lewis and Karen King from the National Science Foundation. The panel members talked about how they approach advocacy in various contexts and responded to questions from the audience.
At the Business Meeting on Saturday, members were encouraged to make plans to attend the Twenty-first AMTE Conference, which will be held at the Rosen Plaza Hotel in Orlando, FL on February 9-11, 2017. Please see an announcement about the Call for Proposals on the AMTE website.
Thanks to all who attended this year's conference and to all of those who helped deliver the conference. A special thank you goes to Mark Ellis, California State University, Fullerton, his university colleagues, and colleagues in school districts and the county department of education in the area for the tremendous support at the conference registration and with technology. 
See you in February 2017!
Susan Gay, Conference Director
| | |
| --- | --- |
|   | |
| | |
| | |
|   | |
|   |   |
| | |
| | |