AMTEA
AMTEA (Association of Mathematics Teacher Educators of Alabama) will be holding a business meeting at the Alabama Council of Teachers of Mathematics Fall Forum at the McWane Center in Birmingham, AL on November 3 in the Banquet Hall from 10-11am. This time allows mathematics teacher educators, mathematicians, master teachers, professional development leaders, AMSTI specialists, and state department leaders to discuss ways to improve teacher education and professional development in Alabama. For more information, contact Stefanie Livers at sdlivers@ua.edu. 
AMMTE
AMMTE (Association of Maryland Math Teacher Educators) is happy to share that we had a successful "un-meeting" on May 24, 2016. Without a set agenda, we provided time and space for mathematics teacher educators from across the state to come together and share ideas, ask questions, and receive feedback on their scholarship, teaching, and service. Representatives from community colleges, the University of Maryland, and small, liberal arts institutions discussed one member's ideas for her sabbatical research, gave feedback on an assessment measure used in another's research project with Special Education students, and shared teaching ideas and resources for the elementary mathematics content courses taught across institutions.
We are also excited to announce that we will be hosting the second annual Early Career Teaching Conference on Saturday, September 17, 2016 for early career teachers of mathematics early (pre-service and in-service up to 5 years). The lineup for the day includes an opening presentation by the Maryland Council of Teachers of Mathematics (MCTM) beginning teacher of the year, Zac Stavish, three breakout sessions, and round table discussions over lunch! For more information check out our conference page on our website!
MI-AMTE
MI-AMTE (Michigan Chapter of the Association of Mathematics Teacher Educators) is busy planning the second annual MI-AMTE Conversation among Colleagues Conference scheduled for Saturday, March 18, 2017, at Michigan State University. The conference theme will be "Developing Systems to Face the Challenges of Today and Tomorrow." The goal of the conference is to bring together mathematics teacher educators, mathematicians, and other educational leaders to engage in conversations to better understand and improve system-level mathematics and mathematics education in Michigan.
The Planning Committee consists of AJ Edson (Co-Chair), Betty Phillips (Co-Chair), Christine Browning (Past Co-Chair), Stephanie Casey (Future Chair), Hyman Bass, Yvonne Grant, Beth Herbel-Eisenmann, Lisa Keller, Valerie Mills, Molade Osibodu, and Amy Ray.
AMTE-NC
AMTE-NC (Association of Mathematics Teacher Educators in North Carolina) has spent this past year getting organized and setting goals for the upcoming year. Executive committee elections were held this spring with the following individuals accepting positions:
President (1 year) Michelle Stephan – University of North Carolina Charlotte
President Elect (1 year) Temple Walkowiak – North Carolina State University
Secretary (2 years) Lisa Poling – Appalachian State University
Treasurer (2 years) Ginger Rhodes – University of North Carolina Wilmington
Executive Board Members:
Peter Eley – Fayetteville University (2 years)
Aaron Trocki – Elon University (1 year)
Stefanie Buckner – Math Coach (2 years)
Jennifer Curtis – DPI (ex-officio)
AMTE-NC will hold an annual meeting on Friday, October 28th, 2016 during the North Carolina Council of Teachers of Mathematics Conference. The purpose of the meeting will be to discuss the goals for the organization, as well as plans to increase membership throughout the state. Robert Berry, University of Virginia, will be presenting to the group. 
PAMTE
PAMTE (Pennsylvania Association of Mathematics Teacher Educators) hosted its tenth annual symposium May 11-12, 2016 on the Shippensburg University campus. Members engaged in brainstorming discussions to identify high-priority issues for PAMTE that will help to set the agenda for the next decade. In addition, Past President Tom Evitts and current President Kate Remillard have met with Presidents of Pennsylvania Council of Teachers of Mathematics (PCTM) and Pennsylvania Council of Leaders of Mathematics (PCLM) regarding how the organizations might work together as the leading mathematics education organizations in the state to increase our advocacy position in PA. Kate Remillard and Jane Wilburne (first PAMTE President) are featured below.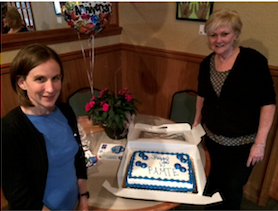 AMTE-TX
AMTE-TX (Association of Mathematics Teacher Educators in Texas) hosted two days of sessions focused on mathematics teacher education at the Conference for the Advancement of Mathematics Teaching, a large conference for mathematics teachers in Texas. In addition, the organization held its annual business meeting, honoring outgoing officers (Dusty Jones, Sam Houston State University, President and Sarah Smitherman Pratt, University of North Texas, Member-at-Large) and welcoming incoming officer Eileen Faulkenberry from Tarleton State University (Member-at-Large).
The fourth annual AMTE-TX Fall Conference will be held at Abilene Christian University in Abilene, Texas on September 23 and 24. The conference will feature a virtual panel of authors of The Mathematical Education of Teachers II and the AMTE Standards for Mathematics Teacher Preparation (Beth Burroughs, Doug Clements, Jim Lewis, and Denise Spangler). For more conference and registration information, go to http://www.amte-tx.org/id25.html.