Make your plans now to attend the 2017 AMTE Annual Conference in Orlando, FL on February 9-11, 2017.
The Twenty-First Annual Conference will be held at the Rosen Plaza Hotel in Orlando, FL.  There will be some special activities to celebrate the 25th Anniversary of AMTE as the national organization for mathematics teacher education in the USA.
The Rosen Plaza Hotel conference guestroom rate is $169 for a single or double room. The nearby Rosen Centre Hotel also has some guestrooms for AMTE attendees at $189 for a single or double room. As cancellations are made, there may still be guestrooms available at our special conference rates. Note that all conference activities are at the Rosen Plaza Hotel. 
Information about transportation from Orlando International Airport (airport code MCO) will be on the AMTE website in January. 
Program information will be updated over the next few weeks and a final program will be posted in January.
The keynote speakers for the 2017 conference have been selected.
Thursday's General Session will feature a panel moderated by Ed Silver, University of Michigan.  Members of the panel include Elizabeth Burroughs, Montana State University; Christine Franklin, University of Georgia; and Perla Myers, University of San Diego. The title of this presentation is "Enhancing the Mathematics of K-12 Teacher Preparation: Multiple Perspectives Across the Mathematical Sciences."
Friday's Judith E. Jacobs Lecture will be presented by Marilyn Strutchens, an Emily R. and Gerald S. Leischuck Endowed Professor and a Mildred Cheshire Fraley Distinguished Professor of Mathematics Education in the Department of Curriculum and Teaching at Auburn University.  The title of her presentation is "Attending to Access, Equity, and Empowerment Matters for Each and Every Student: Beyond Courses and Workshops."
Details of the February 2017 conference schedule include the following:
Thursday, Feb. 9
General (Opening) Session starts Thursday at 9:00 a.m.
Concurrent sessions begin Thursday at 10:45 a.m. Other session highlights include a presentation by last year's Early Career Award Winner, Susan Peters, and a presentation by Fran Arbaugh, this year's winner of the Award for Excellence in Scholarship in Mathematics Teacher Education.  Over 40 posters will be shared at the AMTE Poster Session from 5:30 to 6:30 p.m. 
On Thursday, breakfast is on your own.  Lunch and light snacks during the afternoon break will be provided and are included in the registration fee.  Dinner Thursday evening is on your own.
Friday, Feb. 10
On Friday, breakfast, lunch, light snacks during the afternoon break, and dinner will be provided and are included with the registration fee.
At  6:45 a.m., the Advocacy and Emerging Issues Breakfast will feature a panel of policy experts, including Della Cronin, Principal, Washington Partners, LLC; Karen King, Program Director, Division of Research and Learning, Directorate for Education and Human Resources, National Science Foundation; and Ken Krehbiel, Acting Executive Director, National Council of Teachers of Mathematics. The annual AMTE Advocacy and Emerging Issues Breakfast highlights up-to-date initiatives and events related to national policy in mathematics teacher education. Our invited panel of speakers will participate in an open discussion about how they approach advocacy in various contexts and will highlight important issues AMTE members need to consider related to research and practice in our field. After brief introductions, the panel will respond to questions prepared by the Emerging Issues Committee (EIC) and gathered from the AMTE membership. We will end with an open forum inviting questions from the audience and further discussion from the panel.
Conference sessions will begin on Friday at 8:00 a.m. Session highlights include a session on Putting AMTE's Standards for Mathematics Teacher Preparation into practice led by Nadine Bezuk, Jennifer Bay-Williams, Douglas Clements, and Gary Martin. The Judith Jacobs Lecture is at 4:45 p.m.
Saturday, Feb. 11
On Saturday, breakfast and lunch will be provided and are included in the registration fee. Members of AMTE affiliates will meet during breakfast.
Conference sessions begin at 8 a.m.
The business meeting will occur during lunch.
The conference will conclude by 1:30 p.m.
LATE REGISTRATION must be received by January 20; there is no on-site registration; you must register prior to the conference.
We look forward to seeing you in February in Orlando, FL as we celebrate our Silver Anniversary!!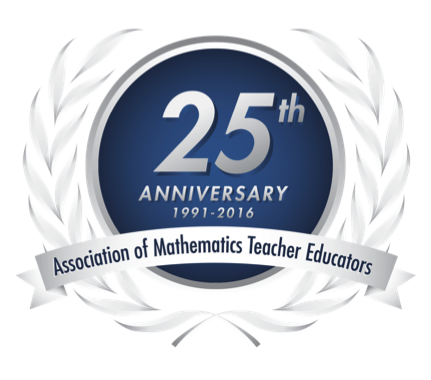 Susan Gay, AMTE Conference Director
sgay@ku.edu
University of Kansas