News from the AMTE Affiliate Connections Committee
During the past year, the Affiliate Connections Committee (ACC) has restructured its roles and responsibilities. Each ACC committee member serves a "region" of AMTE affiliates. Each of the five affiliate regions (displayed on the map below) maintains good balance between longtime affiliates and newer affiliates and between small-membership affiliates and large-membership affiliates. This strategic grouping can hopefully open conversations for affiliates to mentor each other via the help of the ACC Representative.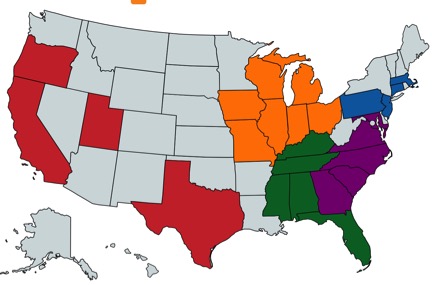 The 2017 ACC members and the regions/affiliates they serve appear in the table below.
| | | |
| --- | --- | --- |
| Tom Evitts | ACC Chair | Facilitates all ACC Reps |
| Michelle Stephan | West Region | OR, CA, UT, TX |
| Travis Miller | Midwest Region | MI, IA, IL, IN, MO, WI |
| Maureen Grady | Southeast 1 Region | MD, NC, SC, GA, VA |
| Mary Pat Sjostrom | Southeast 2 Region | FL, TN, MS, AL, KY |
| Jill Newton | Northeast Region | MA, CT, NJ, PA |
Through their direct contact with affiliate leaders in an assigned region, the regional representatives can:
facilitate communication and collaboration among affiliates within a region,
be aware of strengths and needs of affiliates within a region and provide support to the affiliates,
develop communication strategies between affiliates and AMTE in order to maintain a strong and active network of affiliates, and
support the overall goals and responsibilities of the ACC.
The ACC and Chair can be contacted through the email address: amteaffiliate@gmail.com
Welcome, New Affiliates!
Welcome to AMTE's newest affiliates: KAMTE (Kentucky), VA-AMTE (Virginia), and WI-AMTE (Wisconsin). These new affiliates bring the number of AMTE affiliates to 23. Information about becoming an affiliate can be found on the AMTE's affiliate webpage. 
Submitting your Affiliate News Items to the Affiliates Corner
Every issue of AMTE's Connections includes an affiliates-focused section called Affiliates Corner. Each affiliate and affiliate region may submit news items describing recent and upcoming activities and initiatives. ACC regional representatives will communicate the calls for submissions to all affiliate leaders.
Affiliates are welcome to submit news items in advance of the official call. Send your news to amteaffiliate@gmail.com using the heading NEWS ITEM. The submission will be included in the next edition of AMTE's Connections' Affiliates Corner.
Celebrating AMTE Affiliates through a Special Project
Under the leadership of immediate past Affiliates Director Megan Burton, AMTE is creating a collection of stories about affiliates for a special affiliates section to be published in the summer edition of Connections. This special section will be different from the typical affiliate news found in the AMTE newsletter. AMTE would like the diverse voices of our affiliates to be reflected in this document and believes that personal stories will make this special section more interesting and valuable to readers.
You are invited to share a brief story about how your affiliate began, the ways your affiliate has impacted mathematics teacher education in your state, how your affiliate has supported you as a professional, or something else that you think is memorable. This is a very open project; your submission can be humorous or serious, personal or about the affiliate as a whole. 
Megan asks that each entry be between 1-3 paragraphs and that it be submitted by April 1, 2017. If you, or someone from your affiliate, would like to submit an entry, please send it to megan.burton@auburn.edu .
AMTE 2017 Affiliate Breakfast Photos
The Saturday morning Affiliate Breakfast is always a highlight of AMTE's Annual Conference. Here is a sample of the early-morning smiles and enthusiasm for AMTE affiliates from this past February.
AMTE-TX (Texas)

AMTEA (Alabama)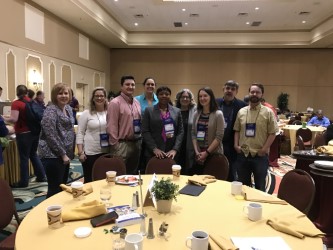 AMTE-NC (North Carolina)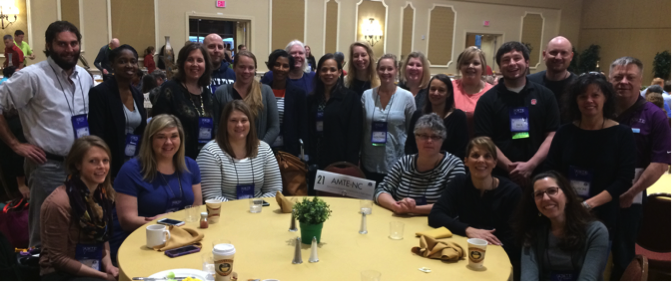 PAMTE (Pennsylvania)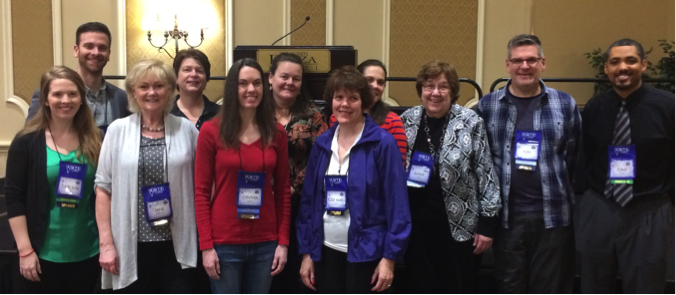 HAMTE (Indiana Hoosiers)

WI-AMTE (Wisconsin, AMTE's newest affiliate)