AFFILIATE NEWS
KAMTE (Kentucky)
The newly formed KAMTE (Kentucky Association of Mathematics Teacher Educators) had a great year! As a new organization, we are trying hard to get our name out there and offer meaningful and beneficial opportunities for mathematics teacher educators in the state of Kentucky (as well as our neighboring states)!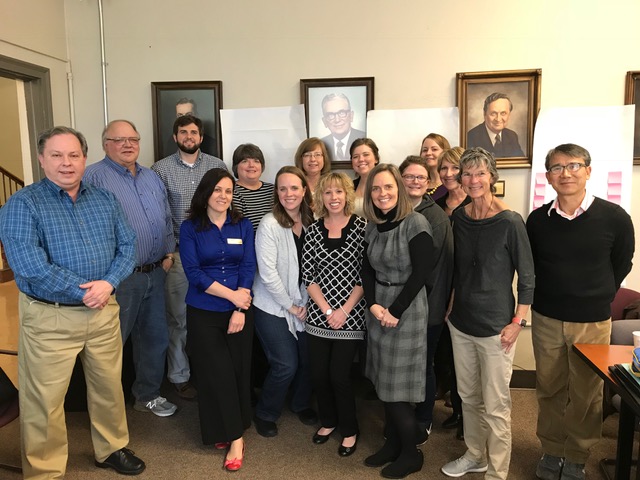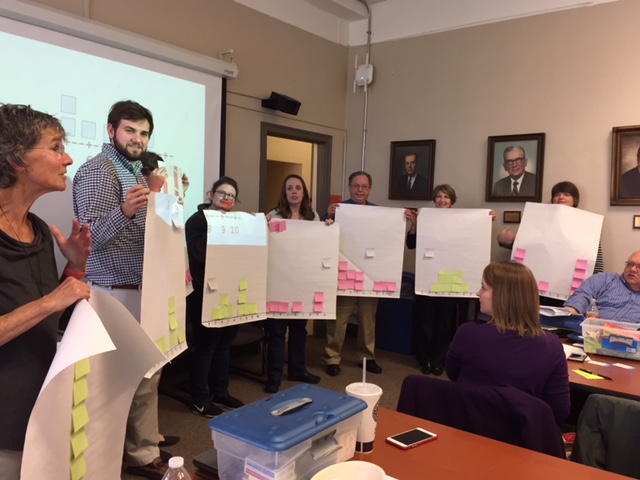 On March 23, KAMTE held a Statistics Education workshop led by Chris Franklin from the American Statistical Association and Susan Peters from the University of Louisville. We had fifteen people in attendance. Chris was an incredible presenter! She gave an overview of documents that address statistics education, facilitated group activities involving the SET report and statistics assessment items. She also shared several different resources for the teaching of K-12 statistics. Sue Peters shared activities using CODAP, an online open-source software used to dynamically explore data. Everyone was so impressed with CODAP!
On May 17-18, KAMTE held an AMTE Standards Summit in Louisville, KY. Jennifer Bay-Williams from the University of Louisville facilitated the two-day meeting. There were 21 people registered, with four states represented. We are very excited to have had the opportunity to dig deep into the AMTE standards with our colleagues, learning from each other as we discuss their meaning and implications. 
On November 3, KAMTE will have a strand at the Kentucky Council of Teachers of Mathematics (an Affiliate of NCTM) Annual Conference. We will also sponsor a poster session at the conference, where undergraduate and graduate students will have the opportunity to share their work with the KCTM community of teachers. 
MI-AMTE (Michigan)
Since becoming an affiliate in 2015, MI-AMTE (Michigan Chapter of the Association of Mathematics Teacher Educators) has focused both on the more mundane, but challenging, tasks of getting organized and becoming a presence in the state. In just two years, the organization has become incorporated, obtained non-profit status, and engaged a third of its 85 members in leadership or committee roles.
The theme of the 2018 MI-AMTE Conference hosted by Eastern Michigan University on March 17, 2018 was The Teacher Development Continuum: Preservice through Early Career.  Nearly 100 teachers, school district leaders, and college faculty from across the state discussed how we might better support teachers through their early career by working collaboratively. The keynote speakers, Tim Boerst (University of Michigan) and Kristen Bieda (Michigan State University) framed our conversation around the AMTE's Standards for Preparing Teachers of Mathematics in addition to focusing on issues unique to teacher preparation in Michigan. Conference co-chairs were Stephanie Casey and Carla Tayeh (Eastern Michigan University).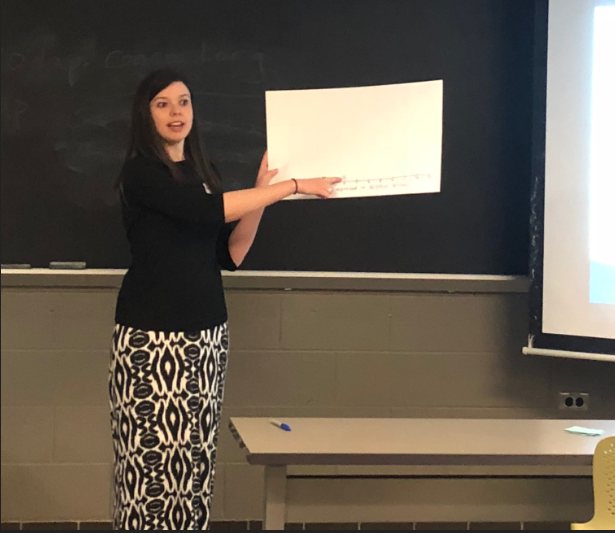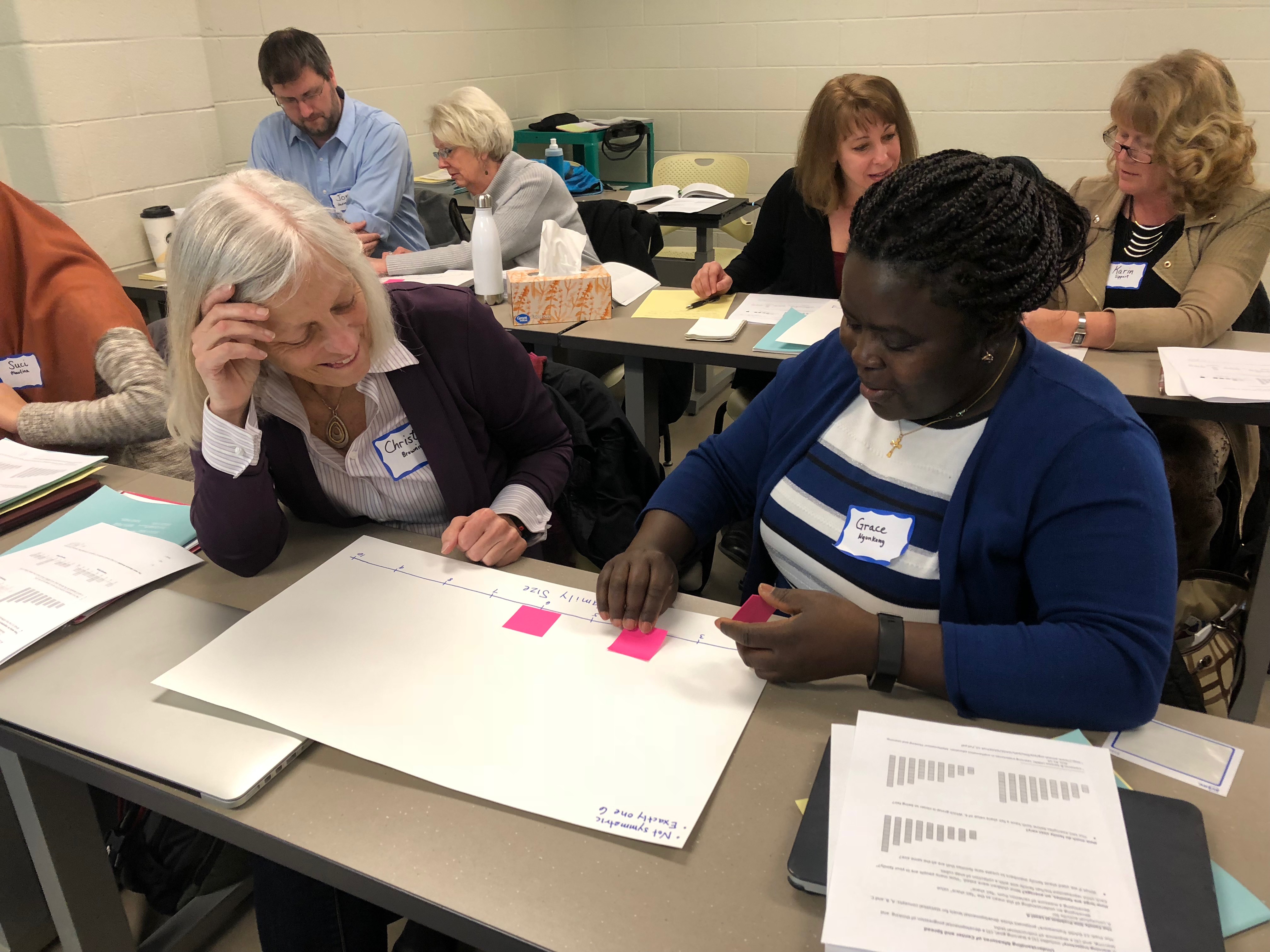 The Statistics Education of Teachers Special Interest Group (SET) of MI-AMTE with support from the American Statistical Association (ASA) again offered a one-day, pre-conference workshop titled "Get Set for SET: Engaging in the Statistical Education of Teachers." Fifteen mathematics teacher educators from throughout the state of Michigan attended.Leaders included Catherine Case (University of Georgia), who is an author of the ASA's SET Report, and Stephanie Casey, who serves as the chair of the Statistics Education SIG. Great conversations and fun was had by all; other AMTE affiliates are encouraged to reach out to Chris Franklin (chris_franklin@icloud.com) to support offering such workshops in other locations.
The Teaching Mathematics Content Courses (TeMaCC) Special Interest Group of MI-AMTE partnered with Jennifer Lewis and Christopher Nazelli (Wayne State University) to offer a one-day Lesson Study Open House the day before the MI-AMTE annual conference. Eighteen math educators from southeast Michigan, including several graduate students, attended. Lewis and Nazelli provided a full-day, immersive introduction to lesson study, including an observation of a research lesson by a team of Wayne State faculty.
The 2019 MI-AMTE Conference will be hosted by Hope College on March 16, 2019. For information, please contact Eric Mann (mann@hope.edu).
Current Board members are: Matt Wyneken (President), S. Asli Özgün-Koca (President-elect), Judith Jacobs (Treasurer), Jane Porath (Secretary), John Gruver (Member At Large), Kristen Bieda (Member At Large), and Rosalie DeFino (Graduate Student Representative).
PAMTE (Pennsylvania)
The PAMTE (Pennsylvania Association of Mathematics Teacher Educators) hosted its twelfth annual symposium May 16-17, 2018 on the Shippensburg University campus. AMTE Executive Director Tim Hendrix provided the opening plenary session on Tales from the Front in which he led a discussion on various issues surrounding our work as mathematics teacher educators. In addition, Judd Pittman, Special Consultant to the Secretary of Education for STEM in the Pennsylvania Department of Education (PDE) outlined PDE's work and initiatives in STEM Education. PAMTE Leaders shared priorities in mathematics teacher education with Pittman, which began a collaboration between PDE and PAMTE in promoting high quality K-12 mathematics education in Pennsylvania. 
Submitting your Affiliate News Items to the Affiliates Corner
Every issue of AMTE Connections includes an affiliates-focused section called Affiliates Corner. Each affiliate and affiliate region may submit news items describing recent and upcoming activities and initiatives. ACC regional representatives will communicate the calls for submissions to all affiliate leaders.
Affiliates are welcome to submit news items in advance of the official call. Send your news to amteaffiliate@gmail.com using the heading NEWS ITEM. The submission will be included in the next edition of AMTE Connections' Affiliates Corner.
Managing your Affiliate Page in the AMTE Affiliates Directory
Is your affiliate's page in the AMTE Affiliates Directory up to date? One representative from each affiliate can be granted access to edit that affiliate's information in the online directory. Each affiliate page includes an overview section that can link to the affiliate website, a list of affiliate leaders, and a section for additional information.
To find out more about managing your affiliate's webpage, go to https://amte.net/affiliates/manage  The link to the AMTE Web Team provides an easy way to register or change your affiliate representative. 
Your AMTE Affiliates Connections Committee
The 2018 ACC members and the regions/affiliates they serve appear below.
---

Tom Evitts

---

ACC Chair

---

Facilitates all ACC Reps

Michelle Stephan

West Region

OR, CA, UT, TX, WME

Jill Newton

Midwest Region

MI, IA, IL, IN, MO, WI

Dana Franz

Southeast 1 Region

MD, NC, SC, GA, VA

Mary Pat Sjostrom

Southeast 2 Region

FL, TN, MS, AL, KY

Hartono Tjoe

Northeast Region

MA, CT, NJ, PA
The Affiliates Connections Committee and Chair can be contacted through the email address: amteaffiliate@gmail.com or through contact information provided at https://amte.net/committee/affiliate-connections-committee.