Affiliate News
KAMTE (Kentucky)
The Kentucky Association of Mathematics Teacher Educators (KAMTE) sponsored an AMTE Standards Summit May 17-18, 2018 in Louisville, KY.  At the Summit, Jenny Bay-Williams from the University of Louisville facilitated meaningful discussion around the AMTE Standards for Preparing Teachers of Mathematics. The twenty-four participants came from four different states and included mathematics professors, education professors, a special education professor, an effectiveness coach and a center director. We had a wonderful time, discussing how the AMTE Standards can help us in our work with preservice and in-service teachers. We learned about what others are already doing in their institutions to address the Standards and what we can do to address the Standards even better as we move forward with our work.
On November 3, 2018, KAMTE will have a strand at the Kentucky Council of Teachers of Mathematics (KCTM) Conference in Lexington, KY.  KAMTE had a very successful strand at the 2017 KCTM Conference and this year we hope to continue the meaningful discussions that began in 2017 about important topics to mathematics teacher educators. The 2018 strand is titled, "Continuing the Conversation: Preparing Teachers of Mathematics." As part of the KAMTE strand, one session will provide time for open working groups to discuss the AMTE Standards for Preparing Teachers of Mathematics. This session will provide a space to continue dialogue from the Summit and start new conversations about practical ways higher education faculty are implementing the standards in their classes to support pre-service teachers.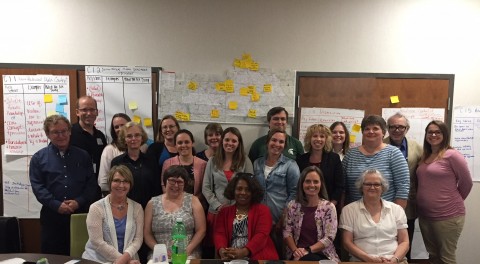 Participants in the KAMTE sponsored Standards Summit
MAMTE (Mississippi)
The Mississippi Association of Mathematics Teacher Educators (MAMTE) will hold their annual fall business meeting on October 13 during the first Saturday session of the Mississippi Council of Teachers of Mathematics conference, which will be held at the Mississippi School for Math and Science  on the Mississippi University for Women campus.
TAMTE (Tennessee)
The Tennessee Association of Mathematics Teacher Educators (TAMTE) will hold its annual meeting on September 28, 2018, at Walters State Community College Sevierville as a pre-conference for the Tennessee Mathematics Teachers Association Annual Conference. In Spring 2018, TAMTE awarded a scholarship to Shande (Nicholas) King, a graduate student at the University of Tennessee, Knoxville, to attend the annual AMTE meeting. TAMTE will award another scholarship in Spring 2019 to another deserving graduate student.
AMTE-TX (Texas)
The Association of Mathematics Teacher Educators in Texas is proud to announce its 10th anniversary! At our annual conference, being held on September 21-22 at Stephen F. Austin State University in Nacogdoches, we will be conducting some special events to celebrate. The conference kicks off with a tour of the SFA Charter School and reception on Friday night. On Saturday morning, we will host a virtual panel featuring nationally known educators, Dr. Michael Steele, Dr. Christine Browning, Dr. Nicole Rigelman, Dr. Travis Olson, and Dr. Marilyn Strutchens. Visit amte-tx.com to register.
This past July, AMTE-TX coordinated a strand at the Conference for the Advancement of Mathematics Teaching (CAMT) held in Houston, Texas. One result of the business meeting was setting the goal to expand our membership and to look for innovative ways to reach Teacher Leaders of Mathematics in Texas. One session on the strand, Linking Research to Practice: Proportional Reasoning and Embedded Professional Development, led by Dr. John Lamb and Dr. Debra Plowman, presented results from a 3-year project involving algebra and middle school teachers in central Texas. Participants learned about the challenges of implementing professional development programs with ambitious goals and received a report on the changes in content knowledge, beliefs and instruction after participating in the project for at least one year.
Submitting your Affiliate News Items to the Affiliates Corner
Every issue of AMTE Connections includes an affiliates-focused section called Affiliates Corner. Each affiliate and affiliate region may submit news items describing recent and upcoming activities and initiatives. Affiliates Corner Committee's regional representative will communicate the calls for submissions to all affiliates' leaders.
Affiliates are welcome to submit news items in advance of the official call. Send your news to amteaffiliate@gmail.com using the heading NEWS ITEM. The submission will be included in the next edition of AMTE Connections Affiliates' Corner.  Photos should be submitted in a jpeg or png format.
Managing your Affiliate Page in the AMTE Affiliates Directory
Is your affiliate's page in the AMTE Affiliates Directory up to date? One representative from each affiliate can be granted access to edit that affiliate's information in the online directory.Each affiliate page includes an overview section that can link to the affiliate website, a list of affiliate leaders, and a section for additional information.
To find out more about managing your affiliate's webpage, go to https://amte.net/affiliates/manage  The link to the AMTE Web Team provides an easy way to register or change your affiliate representative. 
Your AMTE Affiliates Connections Committee
The 2018 ACC members and the regions/affiliates they serve appear below.
---

Tom Evitts

---

ACC Chair

---

Facilitates all ACC Reps

Michelle Stephan

West Region

OR, CA, UT, TX, WME

Jill Newton

Midwest Region

MI, IA, IL, IN, MO, WI

Dana Franz

Southeast 1 Region

MD, NC, SC, GA, VA

Mary Pat Sjostrom

Southeast 2 Region

FL, TN, MS, AL, KY

Hartono Tjoe

Northeast Region

MA, CT, NJ, PA
The Affiliates Connections Committee and Chair can be contacted through the email address: amteaffiliate@gmail.com or through contact information provided at https://amte.net/committee/affiliate-connections-committee.