News from the AMTE Affiliate Connections Committee
Given the new restructuring of the AMTE Governance, the Affiliate Connections Committee (ACC) is also restructuring their roles and responsibilities. Each ACC representative will oversee a "region" of affiliates. This restructuring serves several purposes:
Each ACC Representative can help increase communication/ collaboration between affiliates of similar regions.
Grouping regions was done so there was a good balance between longer-existing affiliates and newer-existing affiliates, small membership affiliates and large membership affiliates. This strategic grouping can hopefully open conversations for affiliates to mentor each other via the help of the ACC Representative.
ACC Representatives can collaborate on needs and strengths of affiliates nationwide, and how AMTE can continue to support affiliates.
ACC Representatives have a clear and distinct role
ACC Representatives help distribute the workload of the affiliate director.
Below is a table of each ACC Rep, and the regions they will oversee:
| | | |
| --- | --- | --- |
| Jean Lee | ACC Chair | Facilitates all ACC Reps |
| Alejandra Salinas | West Region | OR, CA, UT, TX |
| Travis Miller | Midwest Region | MI, IA, IL, IN, MO |
| Maureen Grady | Southeast 1 Region | MD, NC, SC, GA |
| Mary Pat Sjostrom | Southeast 2 Region | FL, TN, MS, AL |
| Tom Evitts | Northeast Region | MA, CT, NJ, PA |
AMTEA
AMTEA (Association of Mathematics Teacher Educators of Alabama) had a productive meeting in November at the Alabama Council of Teachers of Mathematics Annual Conference. We reviewed and provided feedback on the Draft AMTE Standards for Mathematics Teacher Preparation. We also discussed several pressing issues related to our work in Alabama. It was exciting to have so many preservice teachers in attendance and presenting at the conference. New officers were elected and goals for the upcoming year were established. For more information, please visit our website. 
CAMTE
CAMTE (California Association of Mathematics Teacher Educators) participated in the California Mathematics Council- South (CMC-South) Annual Conference held in Palm Springs, California on November 3–5, 2016. The Conference included a CAMTE Strand–a full day of sessions designed to provide support and professional development to mathematics coaches. Sessions were highly engaging and well attended. All of the sessions were lead by CAMTE members.
This fall, CAMTE elected two new officers: Treasurer: Terran Felter and Member at Large: Julie McNamara. As well, Joi Spencer moved from President-Elect to President at the November CMC-South Conference. After a successful two-year term Diane Kinch now assumes the role of CAMTE Past-President. 
CAMTE has begun an annual Member Recognition Awards Program. The goal of the Program is to celebrate the service of our members and to bring greater attention to California-focused research on mathematics teacher-education. Awardees receive a letter of commendation, a plaque, and a cash prize. The program begins in 2017.
HAMTE
HAMTE (Hoosier Association of Mathematics Teacher Educators) held its annual business meeting on Sunday, November 6, in Indianapolis during the annual conference of the Indiana Council of Teachers of Mathematics. (Please see the photo of our amazing group below!)
Highlights of the HAMTE business meeting included:
Enrique Galindo (Indiana University) and Jill Newton (Purdue University) reported on the progress of planning for the 2017 conference of the North American Chapter of the International Group for the Psychology of Mathematics Education (PME-NA), which HAMTE will host in Indianapolis, October 5-8, 2017.
David Feikes (Purdue University Northwest), Gina Yoder (Indiana University Purdue University Indianapolis), and Alan Zollman (Indiana University Southeast) reported on the work of the HAMTE Advocacy Task Force, which includes three advocacy teams —Teacher Recruitment, K-12 Curriculum, and Teacher Licensure Testing.
Betsy Berry (Indiana University Purdue University Fort Wayne), Jodi Frost (Indiana State University), Doris Mohr (University of Southern Indiana), and Sheryl Stump (Ball State University) gave an update on the work of the Elementary Mathematics Specialist Task Force.
Rick Hudson (University of Southern Indiana) announced the winners of two Travel Grants — Graduate students Sue Ellen Richardson (Purdue University) and Rebecca Borowski (Indiana University) received grants to attend the 2017 Annual AMTE Conference.
Rick also announced the results of the elections — Signe Kastberg (Purdue University) is our new President-Elect and Mark Creager (University of Southern Indiana) is our new Secretary.
Rachael Kenney (Purdue University) continues to serve as Treasurer, and Andrew Gatza (Indiana University Purdue University Indianapolis) continues to serve as Newsletter Editor.
The group recognized the service of outgoing board members —Past-President Enrique Galindo and Secretary Craig Willey (Indiana University Purdue University Indianapolis).
Upcoming Event! — Gina Yoder, Jill Newton, and Sheryl Stump will be hosting a discussion session on Advocacy Efforts by AMTE Affiliates at the 2017 AMTE Conference on Saturday, February 11, 8:00-9:00 am.  We hope you will consider attending this discussion, and in the meantime be on the lookout for a survey to solicit information about the advocacy work of your affiliate group.
If you have any questions about the work of HAMTE, please contact President Sheryl Stump at sstump@bsu.edu.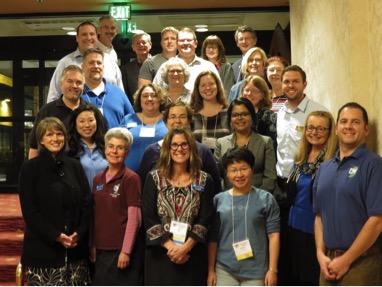 MI-AMTE
MI-AMTE (Michigan Chapter of the Association of Mathematics Teacher Educators) will hold its 2017 Conversations among Colleagues conference on March 18, 2017 at Michigan State University in East Lansing, MI. This year's conference theme is Developing Systems to Face the Challenges of Today and Tomorrow. The goal of the conference is to bring together mathematics teacher educators, mathematicians, and other educational leaders to better understand, respond to, and advocate for mathematics and mathematics education in Michigan at a systems level. Building on the past traditions of Conversations among Colleagues, the format of the 2017 MI-AMTE conference consists of invited plenary sessions, participant working groups, and solicited talks that focus on the conference theme. Featured speakers include Kathyrn Chval (Dean and Professor of Mathematics Education at the University of Missouri), John Austin (President of the Board of Education for Michigan), and Corey Drake (Associate Professor and Director of Teacher Education at Michigan State University). For more information, visit https://prime.natsci.msu.edu/mi-amte.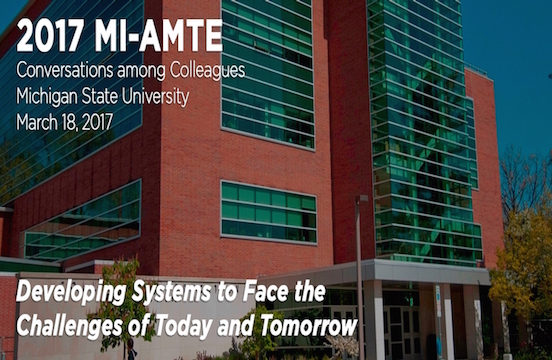 PAMTE
PAMTE (Pennsylvania Association of Mathematics Teacher Educators) is joining with Pennsylvania Council of Teachers of Mathematics (PCTM) and Pennsylvania Council of Leaders of Mathematics (PCLM) to form the PA Mathematics Education Coalition with the goal to inform state and local policymakers, as well as the public, on all aspects of high-quality mathematics education. The Every Student Succeeds Act in PA is the first priority of this group. The coalition has met several times this fall and if anyone is interested in joining this important work and serving on the coalition committee on behalf of PAMTE, please contact Kate Remillard (kremillard@francis.edu). In other news, PAMTE is on Facebook! Check us out at https://www.facebook.com/groups/PAmatheduc/. This site will be used to share information relevant to members of the Math Educator community.
AMTE-TX
AMTE-TX (Association of Mathematics Teacher Educators in Texas) held its fourth annual Fall Conference on September 23 and 24 at Abilene Christian University in Abilene, Texas. The conference opened with a welcome from AMTE President-Elect Randy Phillipp and continued with a virtual panel that included presentations by Jim Lewis, Denise Spangler, Beth Burroughs, and Doug Clements. Each of the panel members discussed a key document related to the preparation of mathematics teachers: The Mathematical Education of Teachers II, Statistical Education of Teachers, Mathematical Preparation of Preservice High School Teachers, and the draft AMTE Standards for Mathematics Teacher Preparation, respectively. The afternoon consisted of breakout sessions presented by members of AMTE-TX.