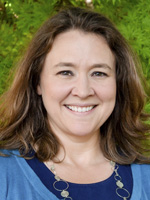 Susan Gay Scholarship 2015 Recipient

Leigh Haltiwanger
Clemson University,
Clemson, South Carolina

Ms. Haltiwanger is currently enrolled in Clemson University's Curriculum and Instruction Ph.D. Program with a specialty concentration in mathematics education. She is in the process of completing comprehensive exams and plans to begin working on a dissertation proposal in the spring of 2015. The program is allowing her to consider a future she previously would not have realized as a viable option: teaching secondary mathematics preservice teachers and conducting research related to teaching and learning mathematics. To date, Ms. Haltiwanger's work and interests have focused on instructional coaching, disciplinary literacy practices, and supporting teachers in using technology effectively in the mathematics classroom. She has also recently been interested in the effects of instructional coaching practices on teachers' sense of agency as it relates to teaching mathematics equitably, especially to students of different classes and socioeconomic statuses. Ms. Haltiwanger has expressed excitement about her journey and is looking forward to collaborating with others so that she might take advantage of the opportunities ahead of her.