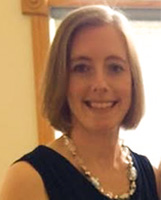 Susan Gay Scholarship 2017 Recipient

Stephanie Jones
West Virginia University,
Morgantown, WV
Stephanie Jones is a doctoral student in the Curriculum & Instruction Ed.D. program at West Virginia University, specializing in mathematics education.  Her research interests focus on how secondary mathematics teacher candidates develop proficiency in eliciting and responding to students' ideas during classroom instruction.  In particular, Stephanie is interested in how the use of instructional rehearsals in math methods courses contributes to teacher candidates' development of those skills.  She currently works as an Assistant Professor of Mathematics Education at Fairmont State University, where she advises and teaches high school math teacher candidates and teaches several math courses for elementary teacher candidates.  Prior to becoming a teacher educator, she spent nine years teaching high school mathematics in West Virginia.