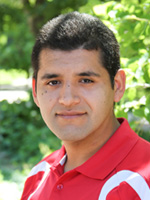 Susan Gay Scholarship 2017 Recipient

Ricardo Martinez
Iowa State University,
Ames, Iowa
Ricardo Martinez is a second year doctoral student in the school of education specializing in mathematics education. He serves as a research assistant for Dr. Ji Yeong I and an administrative assistant for the Center for Technology in Learning and Teaching. He is currently working with Dr. Ji Yeong I in developing an online course for pre- and in-service teachers, titled Teaching Mathematics to English Language Learners, which will be offered spring 2017 through the canvas. He is also, working with Dr. Denise Schmidt-Crawford, in designing an online one credit course for pre-service teachers on the use of technology in K-12 mathematics, which will be offered spring 2017. Ricardo holds a M.Ed. in Curriculum and Instructional Technology from ISU and a B.S. in mathematics from California State University, Bakersfield. Prior to attending Iowa State Ricardo taught high school math in McFarland, CA and Colo, IA for a total of six years.