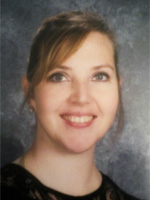 EMS Scholarship 2014 Recipient
Kimberly Hayden
Weems Elementary School,
Manassas, Virginia

In September of 2001, I stepped into my first classroom in Weems Elementary School armed with passion and ready for whatever the kids could throw at me. I loved the way I could get my students passionate about the same things I was passionate about. I would weave history into a tapestry, make reading an adventure, and have a new discovery in math and science every day! My favorite part of teaching was the way a child's face illuminated when he/she made a connection, a discovery, or finally understood a new concept. Those light bulb moments were worth all of the long hours and could blot out a thousand moments of frustration.
My teaching career could probably be traced back far before 2001. My mother was a teacher (now retired) and when I was young I would help her set up her classroom; that is to say, she would set up her classroom and I would play school with the chalkboard and books. I played teacher in my basement with my stuffed animals, and even hosted a neighborhood story time when I was a little older. I high school, I began formally working with children as a part of the Osbourn High School Peer Counseling program.  Upon graduating in 1997, I started working as a substitute teacher in the Manassas City Elementary Schools. At the same time, I enrolled at Mary Washington College, where I earned a BS is Psychology and my Elementary Teaching License.  Shortly after officially beginning my teaching career, I returned to school. This time earning a Masters' Degree in Elementary Reading and Literacy from Walden University.
I have been working at the same school for 13 years and have loved (nearly) every day. I cherish each "light bulb" moment and am encouraged by each success. For the past 3 years, however, my job has been slightly different. Three years ago, my principal asked me to take on the role of Math Coach, a mostly undefined and misunderstood position. But a teacher of teachers is still a teacher, right? I still get "light bulbs" and teachable moments, only now they are usually with adults, rather than students. It has been an interesting journey with quite a few struggles, but I have to say that I think I am finally seeing a change in the culture of my building. Coaching is starting to be viewed as a positive thing and staff members are seeing me as an asset rather than a threat. It is definitely a good feeling. Every illuminating conversation or classroom experience helps to light a path to a stronger math program and better instruction in general.
I don't know what the future holds for me.  If someone had asked me 6 years ago if I would leave the classroom, I would have answered "certainly not". I have since become interested in writing curriculum, curricular resources, and assessments; as well as providing professional development to teachers. I am certainly very happy in the position I am in now. I feel like I can impact more students by enhancing the skills and resources of their teachers.  As a math coach, I get to write curriculum, develop stronger teachers, and work with kids. Where I'm going next is undetermined, but for now, I have enrolled in the Masters in Educational Leadership with a concentration in Mathematic Specialty at George Mason University. This program will help me deepen my content knowledge, increase my pedagogical viewpoint, and learn the most effective ways to work with staff members. I am in my second class in the program and I am completely inspired. It is a journey that will not only impact me, but teachers and students in my school and throughout my division. I am grateful to the AMTE for helping me take the next step on my journey.
Click here to return to EMS Scholarship 2014 Recipients page