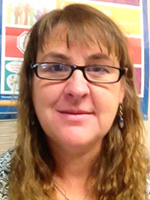 EMS Scholarship 2015 Recipient
Heidi E. Whipple
Barton Academy and Graded School,
Barton, Vermont
Heidi Whipple is an MTSS Math Coach and Math Interventionist in a Rural K-8 school in the Northeast Kingdom of Vermont. Prior to this role, she taught second grade for six years and was a Reading First Coach before that. Mrs. Whipple came to teaching a bit later in her life. She studied Fine Arts at the University of Massachusetts and received her BA in Fine Arts in 1993. Mrs. Whipple milked 100 cows every evening through college to help pay for school. After graduating, she moved to Vermont to take a milking position on a small farm. It was there she met her husband. Together they owned and operated a dairy farm for 20 years. When their two daughters went off to school, Mrs. Whipple began subbing as an art teacher. It was then that Mrs. Whipple discovered that she loved working with children and wanted to go back to school to continue her education. She enrolled in a Master's of Education program at Johnson State College and received a Masters in Elementary Education in 2006.
Although Mrs. Whipple's career started with a heavy focus in reading and writing, math was her favorite subject in school. She took a special interest in early numeracy and in discovering how students learn and make sense of mathematical ideas. Mrs. Whipple became a supervisory union peer leader and presented within the SU to share mathematical content for teachers. It was a natural transition to her newest roll as math coach and interventionist. Mrs. Whipple considers herself lucky to teach math all day everyday!
Currently, Mrs. Whipple is in her second year of the Vermont Mathematics Initiative through the University of Vermont. This is a master's program through the Department of Mathematics. The institute is founded on the principle that deeper mathematical understanding by the teacher will lead to richer teaching of mathematics in the classroom.
Receiving the AMTE Elementary Math Scholarship will help Mrs. Whipple achieve her goal of becoming a mathematics specialist and receiving a second maters degree focused in mathematics.
Click here to return to EMS Scholarship 2015 Recipients page