Special SET Opportunity for AMTE Affiliates
The American Statistical Association invites AMTE affiliates to discover the spirit of how to teach the core statistics standards so that every high school student graduates with a sound foundation in statistical literacy. Recommendations of the Statistical Education of Teacher (SET) Report are incorporated into a workshop that can meet the needs of your affiliate. To learn how your affiliate can host a statistics education workshop, contact Chris Franklin (chris_franklin@icloud.com) or Rebecca Nichols (rebecca@amstat.org).
NCTM Affiliate Leaders Conference
The National Council of Teachers of Mathematics (NCTM) held its Affiliate Leaders Conference on July 22-24, 2017 in Baltimore, MD. The activities of the conference were organized around the theme Intent to Impact: Addressing Access, Equity, and Advocacy in Your Affiliate.
Keynote speaker Marilyn Strutchens and NCTM President Matt Larson provided information and perspectives on how individuals and affiliates can become more vocal, more visible, and more active advocates in classrooms, in schools, and in state education departments. ESSA – Awareness to Action, a pre-conference session, was presented by NCTM's Associate Executive Director, David Barnes.
Tom Evitts, AMTE's Affiliate Connections Committee, attended on behalf of AMTE and was delighted to find that AMTE was well represented among the NCTM affiliate leaders in attendance!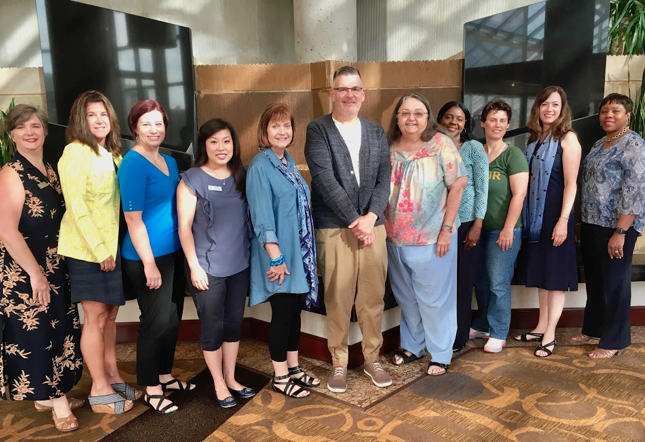 AMTE members attending the NCTM Affiliate Leaders Conference take a break from the conference's collaborative activities and action planning to pose for this group photo. 
AFFILIATE NEWS
AMTEC (Connecticut)
The AMTEC (Association of Mathematics Teacher Educators in Connecticut) annual fall conference will be held Saturday, September 23, 2017 at Central Connecticut State University.
AMTE-TX (Texas)
AMTE-TX (Association of Mathematics Teacher Educators in Texas) had a large presence this year at the Conference for the Advancement of Mathematics Teaching (CAMT), held in Fort Worth from July 9th to July 12th. CAMT attracts thousands of math teachers from all regions of Texas and neighboring states, and is one of the largest conferences for math teachers in the nation. Each year, the AMTE-TX affiliate sponsors a strand designed to connect K-12 practicing teachers, professional development specialists and IHE mathematics educators. This year our strand included 11 AMTE-TX members who presented on a variety of topics including teachers' beliefs about professional development, English Language Learners, calculus, using the area model to teach the distributive property and mathematics field experiences. 
Twenty-three members attended the business meeting (photo), which is open to all CAMT participants. Additionally, AMTE-TX conducted recruitment activities at a booth in the exhibit hall and advertised our AMTE-TX Fall conference, slated for September 29-30, 2017 at Tarrant County College in Fort Worth. For more information about this conference visit our affiliate website.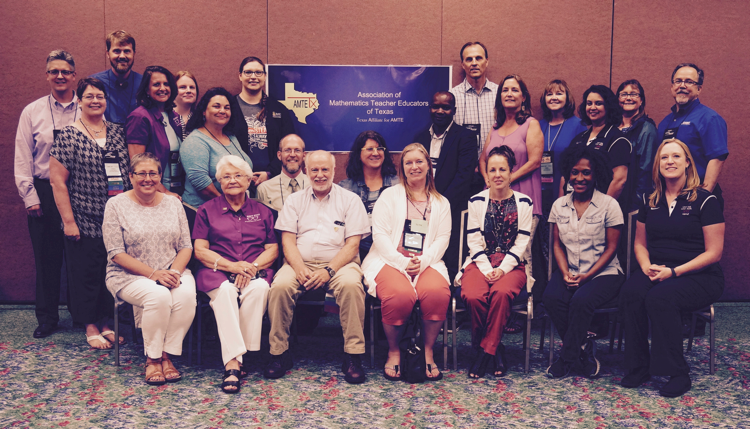 AMTE-TX members attending the Conference for the Advancement of Mathematics Teaching (CAMT)
KAMTE (Kentucky)
The newly formed KAMTE (Kentucky Association of Mathematics Teacher Educators) held its first Community Building Meeting in Lebanon, KY on May 19, 2017. Lebanon, KY, the geographic center of Kentucky, was chosen to symbolize the desire for mathematics teacher educators from all parts of the state to feel welcome to participate in KAMTE. Fourteen mathematics teacher educators and other interested parties gathered to discuss the goals and possible future direction of KAMTE as well as AMTE's new Standards for Preparing Teachers of Mathematics. They even did some math together! Many of those in attendance believed that the meeting was a good first step in the direction of building a KAMTE community.
On November 4, 2017, at Randall K Cooper High School in Union, KY, the Kentucky Council of Teachers of Mathematics (KCTM - the Kentucky Affiliate of the National Council of Teachers of Mathematics) will hold its annual conference. KAMTE will have a strand of sessions at the KCTM conference that will address issues important to Kentucky mathematics teacher educators. These issues are some that were identified as important by the attendees of the KAMTE Community Building Meeting. KAMTE is honored that the KCTM has offered them the opportunity to participate in their conference in such a way.
KAMTE is also working hard to plan spring events for its constituents. If you are interested in learning more about KAMTE, please contact Bethany Noblitt, KAMTE President.
MI-AMTE (Michigan)
Since becoming an affiliate in 2015, MI-AMTE (Michigan Chapter of the Association of Mathematics Teacher Educators) has focused both on the more mundane, but challenging, tasks of getting organized and becoming a presence in the state. In just two years, the organization has become incorporated, obtained non-profit status, and engaged a third of its 85 members in leadership or committee roles.
We have begun to have a voice in the state by responding to calls for comment from the Michigan Department of Education and advocating for changes to teacher testing in the state. Importantly, we have begun to establish partnerships with other mathematics organizations that will position us to strengthen our advocacy role in the future, and MI-AMTE recently formed an Advocacy Committee with Corey Drake serving as chair.
We have held two successful conferences, with this year's conference including a pre-conference focused on statistics education. Our 2017 Conversations Among Colleagues (CAC) Conference, chaired by Betty Phillips and AJ Edson, was held on March 18 at Michigan State University with 90 attendees. The featured speakers were Kathryn Chval, John Austin, and Corey Drake. An invited panel included Sherry Gay-Dagnogo, Valerie L. Mills, Shari Stockero, and RJ Webber. The next CAC, chaired by Stephanie Casey and Carla Tayeh, will be held on March 17, 2018 at Eastern Michigan University.
Current MI-AMTE Board members are: Matt Wyneken (president), Shari Stockero (past-president), Judith Jacobs (treasurer), Margaret Rathouz (secretary), Laura Van Zoest (at-large), Kristen Bieda (at-large), and Mary Ochieng (graduate student).
PAMTE (Pennsylvania)
PAMTE (Pennsylvania Association of Mathematics Teacher Educators)  hosted its eleventh Annual Symposium May 17-18, 2017 on the Shippensburg University campus. Working groups for secondary methods and elementary content met both days during the symposium and their brain storming ideas were shared on the PAMTE website.
President Kate Remillard has been integral in leading a group from PAMTE, Pennsylvania Council of Teachers of Mathematics (PCTM), and Pennsylvania Council of Leaders of Mathematics (PCLM) regarding advocacy in mathematics education in PA. Activities have included the Act 82 of 2012 letter-writing campaign and a rigorous discussion about the clarity of PA Standards with Pennsylvania's Secretary of Education Pedro Rivera.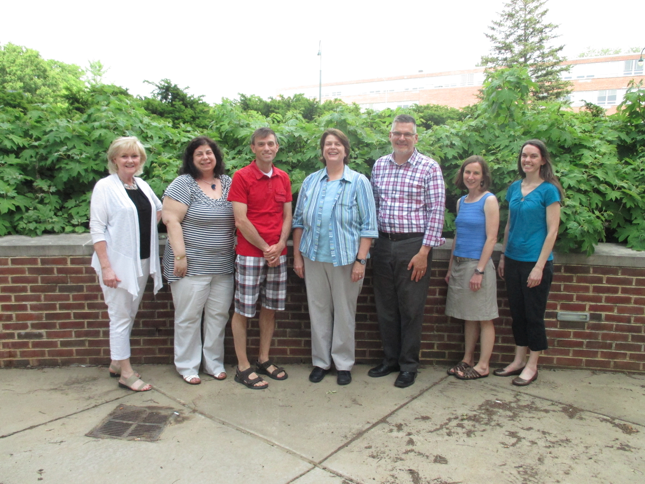 PAMTE Presidents (past/present/president elect): Jane Wilburne, Nina Girard, Steve Williams, Janet White, Tom Evitts, Kate Remillard, and Cynthia Taylor
VA-AMTE (Virginia)
VA-AMTE (Virgina Association of Mathematics Teacher Educators) will be having its first annual retreat on September 23rd at Mary Baldwin University. Guest speaker is Beth Kobett, and sessions will include topics surrounding methods courses, technology, research, as well as our focus as an organization. 
Submitting your Affiliate News Items to the Affiliates Corner
Every issue of AMTE Connections includes an affiliates-focused section called Affiliates Corner. Each affiliate and affiliate region may submit news items describing recent and upcoming activities and initiatives. ACC regional representatives will communicate the calls for submissions to all affiliate leaders.
Affiliates are welcome to submit news items in advance of the official call. Send your news to amteaffiliate@gmail.com using the heading NEWS ITEM. The submission will be included in the next edition of AMTE Connections' Affiliates Corner.
Managing your Affiliate Page in the AMTE Affiliates Directory
Is your affiliate's page in the AMTE Affiliates Directory up to date? One representative from each affiliate can be granted access to edit that affiliate's information in the online directory. Each affiliate page includes an overview section that can link to the affiliate website, a list of affiliate leaders, and a section for additional information.
To find out more about managing your affiliate's webpage, go to https://amte.net/affiliates/manage  The link to the AMTE Web Team provides an easy way to register or change your affiliate representative. 
Your AMTE Affiliates Connections Committee
The 2017 ACC members and the regions/affiliates they serve appear below.
---

Tom Evitts

---

ACC Chair

---

Facilitates all ACC Reps

Michelle Stephan

West Region

OR, CA, UT, TX

Jill Newton

Midwest Region

MI, IA, IL, IN, MO, WI

Maureen Grady

Southeast 1 Region

MD, NC, SC, GA, VA

Mary Pat Sjostrom

Southeast 2 Region

FL, TN, MS, AL, KY

Hartono Tjoe

Northeast Region

MA, CT, NJ, PA
The Affiliates Connections Committee and Chair can be contacted through the email address: amteaffiliate@gmail.com or through contact information provided at https://amte.net/committee/affiliate-connections-committee.