Standard P.5. Recruitment and Retention of Teacher Candidates
The recruitment and retention of high-quality teachers of mathematics for the middle grades offer unique challenges to educator preparation programs. Middle school mathematics certification may be relatively new or not required in some states. Majors or programs specific to middle level preparation are not well known, particularly among entering college students who typically sort themselves between majors or career goals tied to elementary or secondary school teaching. Often, secondary school is synonymous with Grades 9–12 or high school, and middle school focus and opportunities are missed. Related to retention, time and attention to the ability of middle school teachers to work effectively with mentors as well as with other educational specialists (e.g. counselors, social workers, special education professionals) are important both to initial preparation of teachers and during their induction periods.
As described in Chapter 3, the Mathematics Teacher Education Partnership Research Action Cluster (Ranta & Dickey, 2015) on recruitment has identified effective recruitment strategies for mathematics teachers. Here we revisit these strategies as they apply to attracting high school and college students to middle level majors, where they exist, or to programs leading to middle grades mathematics certification or licensure include.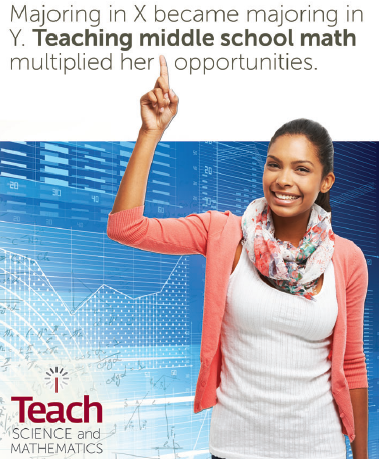 Offering field experiences in middle school mathematics settings with exemplary teachers
Providing scholarships specific to middle level programs
Promoting the need for middle grades mathematics teachers that exceeds the need for elementary teachers as well as for middle level English/language art or social studies teachers
Highlighting the integrated and active-learning curriculum intended for middle grades learners
Building a connection to the unique emotional and cognitive needs of middle grade learners
Providing career counseling to elementary and secondary education students as well as to mathematics majors about major changes and certification options specific to middle school teaching